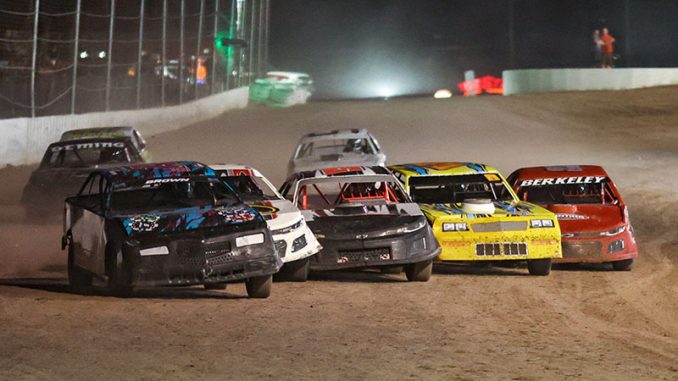 LAS VEGAS, Nev. (Nov. 9) – The opening night of the 24th annual Karl Chevrolet Duel in the Desert is in the books with 11 drivers punching their tickets to Friday and Saturday night championship features. 
Four classes got started on Qualifying Night One as IMCA Sunoco Stock Cars, Karl Kustoms Northern SportMods, IMCA STARS Mod Lites and IMCA Modifieds ran heat races and qualifying features at The Dirt Track at Las Vegas Motor Speedway.
To see a full breakdown of Tuesday night's results, click here to see the Box Score.
The first feature of the night was in the Stock Car division, with Dallon Murty of Chelsea, Iowa, and Zane DeVilbiss of Farmington, N.M., fighting for the win. Following multiple exchanges of the top spot, Murty took the victory off the final corner by .014 seconds with the two side-by-side.
The Stock Car division was dominated by the Murty family in feature No. 2, as Damon Murty, Dallon's father, commanded the race for an easy win in the second of two features in the class.
A trio of Northern SportMod features followed with Hays, Kan., native Brett Berry taking the opening feature. Berry started third, assumed the lead on the second lap, and went on to win over Kaylin Lopez of Marshalltown, Iowa.
In Feature No. 2, Jorddon Braaten of Central Point, Ore., made his way to the lead after seven laps, winning over Dysart, Iowa's Joe Docekal.
Logan Anderson of Eddyville, Iowa, won the third and final SportMod qualifier over Tyler Bannister of Bakersfield, Calif. Anderson started from the front row and took the lead on the break.
Bakersfield, Calif., hot shoe Zack Forster led flag-to-flag in the STARS Mod Lite qualifying feature. He took the win over Sean Conyers of Phoenix, Ariz., as the division made its Duel in the Desert debut.
Five IMCA Modified qualifying races capped off the opening night of the Duel, with Ricky Thornton Jr., of Adel, Iowa, winning from the pole in the first qualifier. He led wire-to-wire and bested Ricky Alvarado of Hotchkiss, Colo., who finished second.
Jeff Taylor of Cave City, Ark., won the second Modified qualifier over Bakersfield, Calif.'s Ethan Dotson. Taylor won his qualifying feature from the pole position after a stellar run in his heat race.
Cody Laney of Torrance, Calif., won a caution-laden third qualifying feature over Peyton Taylor, brother of qualifying feature No. 2 winner, Jeff Taylor.
Jerry Flippo of Bakersfield, Calif., dominated qualifier No. 4, winning by 1.3 seconds over Tim Ward of Harcourt, Iowa.
Robert Sanders of Bakersfield, Calif., won the final Modified qualifier over Grey Ferrando of Stayton, Ore. Ferrando cut into Sanders' lead in traffic late, but fell just short.
Qualifying heats and features will be held Wednesday and Thursday night, with new feature winners locking themselves into Friday and Saturday night main events in all four classes. Northern SportMod and STARS Mod Lite main events will be held Friday night and Stock Car and IMCA Modified main events running Saturday night.
Tickets and race information can be found at www.duelvegas.com.