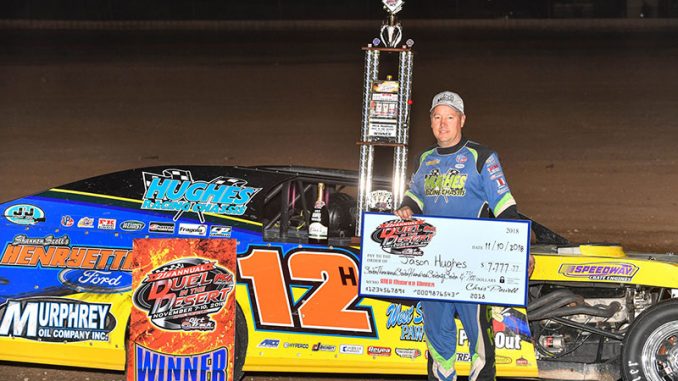 By Mike Spieker
LAS VEGAS, Nev. (Nov. 10) – Entries numbered more than 300 and Jason Hughes backed up his opening night qualifying feature victory by winning Saturday's IMCA Modified Duel in the De­sert main event and taking home a $7,777 check.
More than 20 states were represented at the Las Vegas Motor Speedway Dirt Track and drivers from 13 of them qualified for the Modified main event while a record 97 Karl Chevrolet Northern SportMods took the green.
Hughes had earned the Modified pole by virtue of his Thursday victory and started the 40-lap main event with Friday's qualifying feature winner, Ricky Thornton Jr. to his outside. At the drop of the green, Hughes powered to the lead and brought third-place starter Ricky Alvarado with him.
Hughes quickly opened up a 10 car length lead in the first lap as all the drivers inside the top five rode around the low side of the speedway.
Thornton challenged Alvarado for the runner-up position on a restart with 23 circuits remaining. That allowed Hughes to pull away to a comfortable lead once again while Alvarado was able to fend off Thornton's charge.
Hughes ran a flawless second half of the race and easily cruised to the checkered flag to add his name to an illustrious list of Duel in the Desert champions as well as the 2019 Fast Shafts All-Star Invi­tational ballot.
"We had a really good car every night. Luck was on our side down here in Vegas with the draw but you've got to have the car to back it up and finish the job," said Hughes in victory lane.
Jake Sachau was the class of the field for the 25-lap Northern SportMod feature. Sachau and Cody Olsen battled for the lead on the opening lap with Olsen grabbing the point. Sachau came back to place a bid for the lead on lap three, but just as he did the caution was displayed.
Sachau remained on the rear bumper of Olsen as the race resumed. Olsen slipped up out of the groove in turn one on lap six, which was all Sachau needed to take command. Once out front, Sachau immediately checked out from the rest of the field as Ty Rogers looked to take second from Olsen.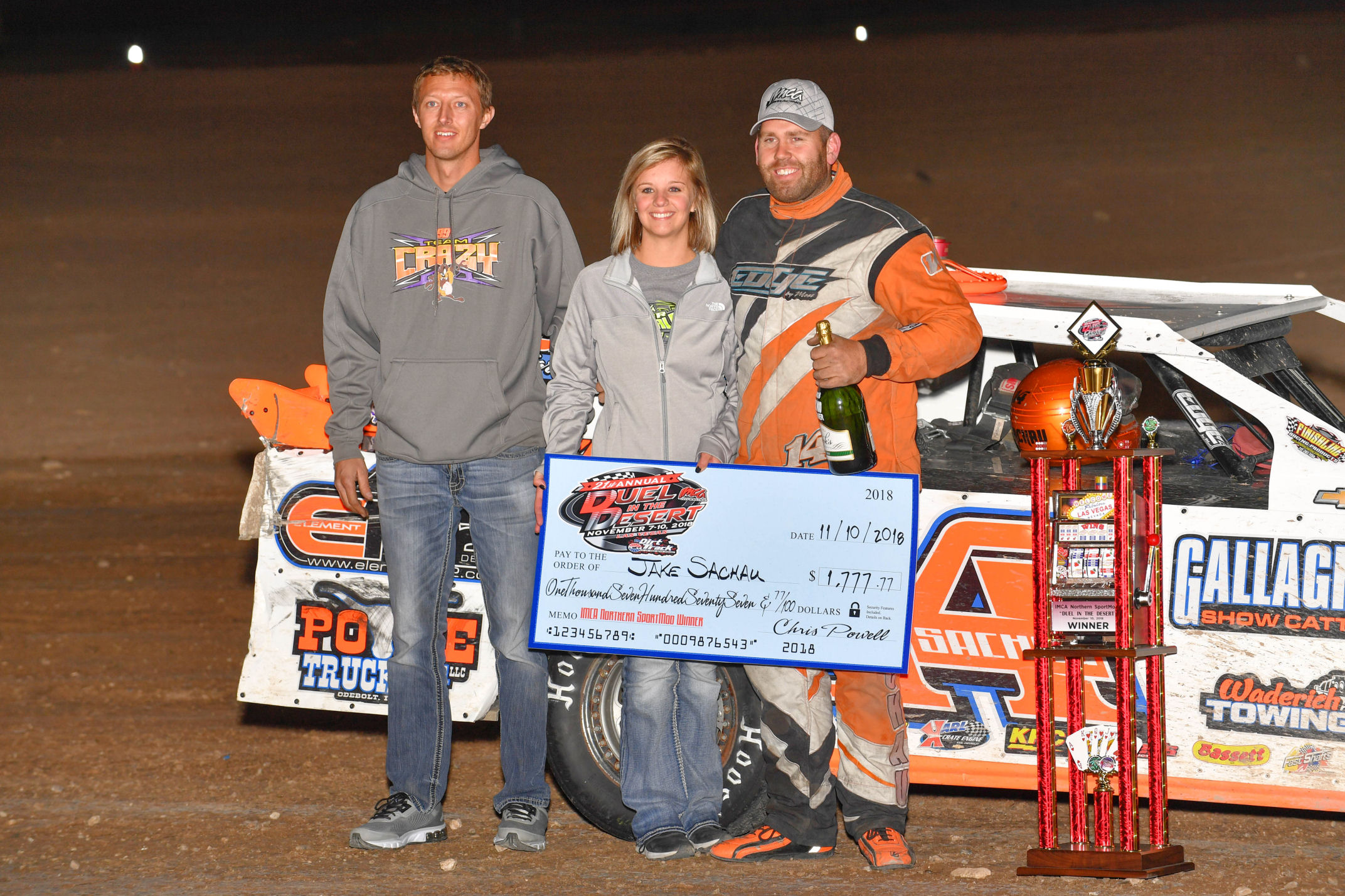 The final caution flew with eight laps remaining and erased Sachau's three-plus second lead over Ol­sen. The battle for second continued with Olsen and Rogers on the restart as Sachau checked out once again.
Sachau went on to take the $1,777 win by over a full straightaway. Olsen narrowly held off Rog­ers to claim the runner-up position.
Buddy Kniss claimed the Young Guns win. Bill Brack held off a late charge from Christy Barnett for his third consecutive Legends victory.
Feature Results
Modifieds – 1. Jason Hughes, Watts, Okla.; 2. Ricky Alvarado, Delta, Colo.; 3. Ricky Thornton Jr., Clive, Iowa; 4. Shane DeVolder, Pacifica, Calif.; 5. Peyton Taylor, Batesville, Ark.; 6. Alex Stan­ford, Chowchilla, Calif.; 7. R.C. Whitwell, Tucson, Ariz.; 8. Jeremy Frenier, Fort Morgan, Colo.; 9. Randy Brown, Chowchilla, Calif.; 10. Zane Devilbiss, Farmington, N.M.; 11. Terry Phillips, Spring­field, Mo.; 12. Cody Laney, Torrance, Calif.; 13. Collen Winebarger, Corbett, Ore.; 14. Braxton Yeager, Green River, Wyo.; 15. Jacob Hobscheidt, Plattsmouth, Neb.; 16. Chris Abelson, Sioux City, Iowa; 17. Tanner Black, Otis, Kan.; 18. D.J. Shannon, Merced, Calif.; 19. Dominic Ursetta, Arvada, Colo.; 20. Tim Ward, Chandler, Ariz.; 21. Nicholas O'Neil, Tucson, Ariz.; 22. Shane DeMey, Denison, Iowa; 23. Joe Duvall, Claremore, Okla.; 24. Eddie Belec, Arvada, Colo.; 25. Kollin Hibdon, Pahrump; 26. Jordan Grabouski, Beatrice, Neb.; 27. Dustin Cady, Albany, Ore.; 28. Tom Berry Jr., Medford, Ore.
Northern SportMods – 1. Jake Sachau, Denison, Iowa; 2. Cody Olsen, Omaha, Neb.; 3. Ty Rog­ers, Somerton, Ariz.; 4. Gary Dutton, Bakersfield, Calif.; 5. Chase Alves, Chandler, Ariz.; 6. Jason George, Laveen, Ariz.; 7. Jason Nation, Bakersfield, Calif.; 8. Bo Partain, Casa Grande, Ariz.; 9. Luke Krogh, Dickinson, N.D.; 10. Lance Borgman, Beatrice, Neb.; 11. Shawn Harker, Nebraska City, Neb.; 12. Fred Ryland, Brentwood, Calif.; 13. Austin Manzella, Bakersfield, Calif.; 14. Brady Bjella, Williston, N.D.; 15. Andrew Peckham, Grass Valley, Calif.; 16. Kevin Johnson, Bakersfield, Calif.; 17. Billy Simkins, Bakersfield, Calif.; 18. Danny Concelman, Colorado Springs, Colo.; 19. Robert Elliott, Clinton, Okla.; 20. Michael Johnson, Bakersfield, Calif.; 21. Wayne Dot­son, Bakersfield, Calif.; 22. Chris McKellar, Bakersfield, Calif.; 23. Chase Rudolf, Prole, Iowa; 24. Cody Thompson, Sioux City, Iowa.