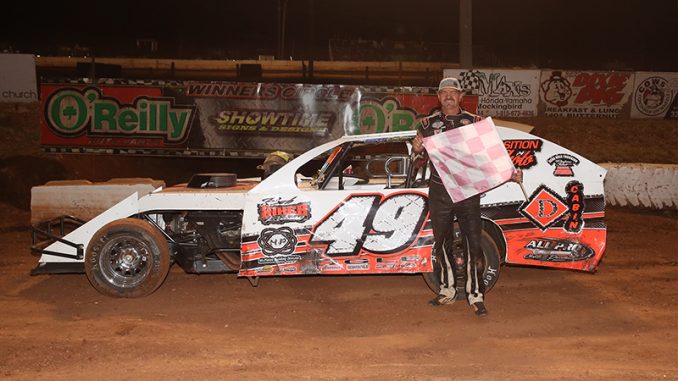 ABILENE, Texas (Oct. 16) – Vince Ogle figured he'd finished every position but first in all the years he's been running Abilene Speedway's Ryan Bard Memorial Southern Challenge.
He led all 30 laps of the IMCA Modified feature at the 27th annual event to get that first win and $2,500 Saturday night.
"I've been trying to win this race for 25 years and I'm pretty sure I've finished everywhere except first," he said. "It's a really awesome feeling to finally win it. I was beginning to think it wouldn't happen. This was the best shot I had at winning it and I didn't want to let it go."
"I gave it everything I had every lap."
Ogle had drawn the outside pole start, then made last-minute setup changes after main event hot laps.
Into lapped traffic early, he was challenged by track champion Fred Wojtek on the lower line, then saw William Gould's pass for the lead waved off by a caution.
Ogle held the pack at bay to the checkers, winning ahead of Wojtek, Gould, Kyle Wisdom and Justin Short.
Defending race winner Chris Elliott was the hard charger, advancing a dozen spots to sixth.
"I've got a good crew," said Ogle, sharing credit for the win with wife Heather, son Kade and daughter Kenzington. "Michael Diers, Mark Davis and my sister Rena made it possible for me to get in this car (a 2021 GRT) and this was our first win in it."
"There are still a few races I would like to win before I quit. I raced with my son and daughter (who finished fifth and sixth, respectively, in point standings at Abilene this season) and maybe I'll get to see them win this race, too," said Ogle, newly Fast Shafts All-Star Invitational qualifying eligible. "That would be a huge blessing to be able to do that, and maybe I'll get to race with them when they do it."
More than 130 IMCA entries vied at the Southern Challenge. Bradley Poor topped the Smiley's Racing Products Southern SportMod feature and Tommy Fain repeated in the IMCA Sunoco Stock Car main to earn $2,500 checks of their own while Sean Leasure banked $1,250 for his Mach-1 Sport Compact victory. 
Like Ogle, Poor had winning the Southern Challenge on his bucket list and the 2020 runner-up came through with a convincing victory.
After a caution on the initial start, the laps clicked off and Poor spent most of them racing in traffic before winning handily ahead of Michael Dabney.
"It's hard to believe. I'm still in disbelief. I've wanted to win this since I was little, watching my dad race it," he said, "and since we have run it, I've led it three times and broke and finished second a couple times. It seemed like it was just something every time but now we've definitely got the monkey off our back. It's good to get the weight off and get it done."
"I never expected to be able to dominate it," Poor added, following his seventh win in his last eight starts in the Crabtree Motorsports 2021 IRP car.
Rounding out the top five were John Neal Reid, Jerrett Bransom and G.W. Egbert IV.
Aided by timely cautions, Fain led start to finish in the Stock Car headliner and won ahead of Lance Hanson Jr. and Colby Deming.
"From my viewpont, everything worked out real good. The track had a real good cushion all the way around and was a lot like a normal Saturday night track," he said. "That made it easier for us as far as setup."
"Cautions kept us out of a lapped traffic scenario, which I was OK with," he continued. "My car was good and I could focus on hitting my marks."
Dennis Bissonnette and 19th starting Jason Adcock rounded out the top five. The win made Fain eligible to qualify for the B & B Racing Chassis All-Star Invitational.
And Leasure motored to a career best payday, taking the lead before midway of the Sport Compact 20-lapper and outrunning Randy Martin.
"I take pride in being able to come to a track and being able to win," said Leasure, who had raced from the back of the field to win his one previous start at Abilene this season. "This was a fun track, with a little bit of moisture on the bottom."
Gavin Smith, Keagan Haralson and Chase Martin ran 3-4-5.