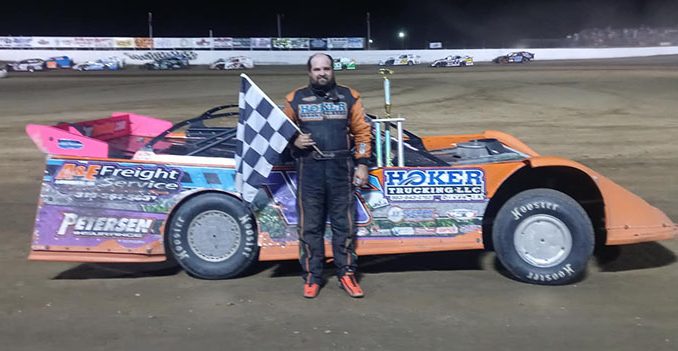 By Rob Hinckley
EAST MOLINE, Ill. (Sept. 19) – The smile lit up the cockpit of the no. 15K and then in front of the large crowd at East Moline Speedway.
Justin Kay found one track he had not won at in 2021 and picked a great night, leading all 56 laps of the Salute to Gary Webb IMCA Sunoco Late Model special Sunday evening.
"It's pretty cool. It seems like we win a lot of the races that are salutes. I've raced a lot of laps with Gary so I hope to keep this going," he said.
The race on the tight quarter-mile oval was only slowed three times by caution in the first 10 laps. The last 46 circuits were all under the green flag.
"I'm a little winded. That was a long green flag run there at the end," said $2,000 winner Kay.
The Wheatland, Iowa pilot started on the pole, thanks to drawing the one pill in the redraw, and blazed every lap to beat track champion Andy Nezworski, Fred Remley, Matt Ryan, Jacob Waterman and 18 others.
Nezworski started fourth and quickly showed his power, moving to the runner-up spot early. Remley moved from his ninth starting spot to hold off fifth starting Ryan, who battled most of the race with Joe Zrostlik and Gage Neal before the latter two faded some.
For the winner, running out front is not always an advantage.
"I honestly wasn't sure where to be on the race track. It felt good on the top of (turns) one and two, felt good on the bottom of three and four," he said. "It seemed like the middle worked for a little bit."
Troy Cordes visited and paced all 20 laps of the IMCA Modified finale. Cordes outran Travis Denning, Brandon Durbin, Eric Barnes and Donovan Lodge.
Karl Kustoms Northern SportMod hotshoe Tony Olson also made his first 2021 appearance and held off Logan Veloz for the 15-lap win. Jarett Franzen, Trey Grimm and David Engelkens followed.
Mike Zemo Jr. made it nine wins at EMS in 2021. He took the lead early to win the 12-lap IMCA STARS Mod Lite feature over Jon Padilla, Brandon Freeburg, Mike Morrow and Rob Guss.
The event also played host to the 2021 EMS Hall of Fame induction. The ceremony, held during intermission, featured Pat Tuttle, Terry Ryan, Mike Kulhavvy, Denny Anton, Rob Toland, Gary Oliver, Ron Williams and Jack Lueth all being enshrined into the Hall.
Late Model feature results – 1. Justin Kay; 2. Andy Nezworski; 3. Fred Remley; 4. Matt Ryan; 5. Jacob Waterman; 6. Joe Zrostlik; 7. Shawn Mulvany; 8. Gage Neal; 9. Darrel DeFrance; 10. Bobby Hansen; 11. LeRoy Brenner; 12. Mike Haines; 13. B.J. Jackson; 14. Chuck Hanna; 15. Ryan Claeys; 16. Brian Harris; 17. Gary Webb; 18. Dustin Edwards; 19. Brian Webb; 20. Dave Hammond; 21. Kevin Miller; 22. Logan Hale; 23. David Norton.