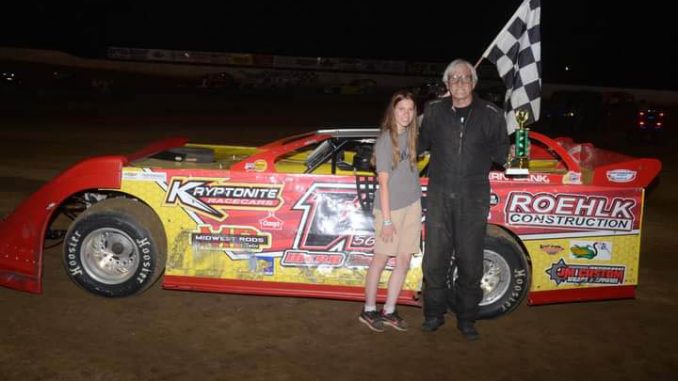 By Rob Hinckley
EAST MOLINE, Ill. (July 10, 2022) – The infectious smile in the winners' circle told another story as Gary Webb climbed from his mount Sunday evening at East Moline Speedway.
The 73-year old hall of famer moved quickly from his P6 start to the front of the IMCA Sunoco Late Model pack. He cruised to the 25-lap win in front of a very appreciative crowd.
"This never gets old, but I'm getting old," Webb said and laughed. "This was win 523 and they're coming a lot more slowly nowadays, but this was a good run."
The 17-time track champion was really never challenged even after an early caution. His Kryptonite Chassis showed great acceleration off the turns as he extended the advantage.
"We had great forward bite in that feature," Webb said. "(Track Promoter Jeff Peterson) had the track nicely done. We had the engine rebuilt a couple weeks ago so we had great power and I thank the fans here for watching."
The 523 wins have come at 65 different tracks, but a bulk of them at EMS, which he considers his home track.
Matt Ryan, coming off a win at another track the night before, started 10th and moved by national point leader Dustin Schram about halfway through to take second. Joe Beal, Schram and Jacob Waterman rounded out the top five. Waterman's EMS win streak was stopped at three.
Defending national champion Jeff Larson visited EMS again and won the Friesen Performance IMCA Modified 20-lapper for the second straight week. Brandon Durbin, Travis Denning, Donovan Lodge and B.J. Jackson followed in a very competitive event throughout the field.
There were three different leaders and four other drivers ran in the top five during the caution-free race.
Logan Veloz chalked up win number four in the Friesen Performance IMCA Northern SportMods, beating hard-running Erick Turner, T.J. Patz, Chuck Fox and David Engelkens in the 15-lap run.
Brandon Freeburg dominated the IMCA STARS Mod Lites, taking the 15-lap finale. Mike Zemo, Jon Padilla, R.J. Gonzales and early leader Mike Morrow were next. Michael Dominguez rolled his ride during his heat race, but returned to take eighth in the feature.
Randy Lamar copped the 12-lap IMCA Sunoco Hobby Stock ender, beating Logan Gustaf, Brandon Schneider, Michale Putt and Josh Lane.
A total of 98 cars were in the pits and the final checkered flag fell about 9:45 p.m.