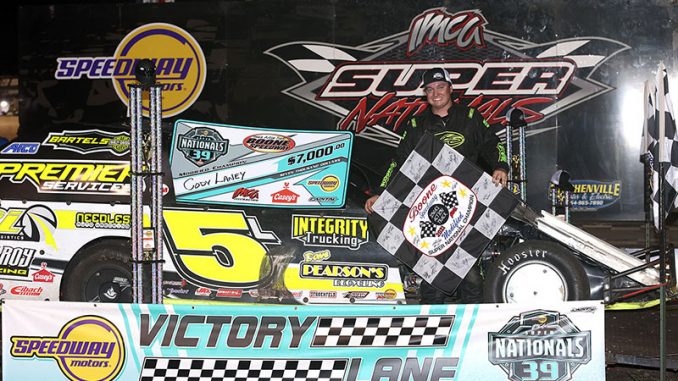 BOONE, Iowa (Sept. 11) – Cody Laney can remember when going to watch the IMCA Speedway Motors Super Nationals fueled by Casey's was pretty cool.
Winning the Saturday night main event at America's Racin' Vacation was even cooler.
The Torrance, Calif., driver led all 40 laps in the final race of the 39th annual Super Nationals, earning $7,000 and racing immortality.
"Two years ago I ran third. Last year I was second and people were telling me I was going to win it, but you never know because this is racing. But nobody can take this away now," Laney said, after stamping 'Mission Accomplished' on his Super Nationals championship quest. "I remember the first times I went out to Boone Speedway just to hang out and watch the guys I had only heard about. Then I got the chance to race with them."
"Getting to do that and now getting to win Super Nationals has been pretty cool."
Tim Ward, Justin O'Brien and Zane DeVilbiss all raced to Super Nationals career-best finishes in running 2-3-4 behind him.
Jeff Aikey had passed on a Wednesday qualifying spot, won his Thursday qualifier and started from the front of the inside row. He'd gotten second back from Jake McBirnie before pulling off following the second of two lap 28 restarts.
Ward, also the winner of a Thursday qualifier, took over the runner-up spot for good at that point while O'Brien settled into third and DeVilbiss into fourth with 10 laps left.
"The main thing was to clear Aikey at the start of the race. You never know what lane is going to be best," said pole starter Laney, winner of the week's first qualifier. "Jeff is really good low on the track so that's where I tried to run while I waited for the track to come in higher. That's where I felt best in the Wednesday preliminary."
Laney glanced at the turn one leader board each time around to keep tabs on his closest challengers.
"I had seen Jeff on the first lap, then didn't see him again once we moved up on the track," he said. "I could see that McBirnie and then Ward got up to second and was a little worried, because they're both so good at Boone."
In the final laps, Laney ran cautiously through traffic while making sure Ward, O'Brien and DeVilbiss stayed behind him.
"The first couple (lapped cars) I caught were running around the bottom, which worked out great for me," he said. "Then I caught two or three of 'em right in a row on top. There weren't that many laps left so I decided to stay behind them and make sure none of them were going to mess up and spin out in front of me."
One of a record eight Californians in the field, Jerry Flippo paced first-time Super Nationals contenders and qualifiers with his fifth place showing after starting 16th.
Two-time champion Richie Gustin advanced 17 positions, scoring sixth place and hard charger honors. Jesse Sobbing moved up 16 places, Bobby Hogge IV – last a qualifier in in 2001 – 15 and Lucas Lamberies and Kollin Hibdon both 14.
Hibdon and Cory Sample gave Nevada its first main event qualifiers since 1995. Troy Cordes made his 16th career start, Kelly Shryock his 15th.
Ten states were represented in the Big Dance and a dozen drivers made career-first Saturday night starts. Dallon Murty hustled over after winning the Stock Car main event to finish 20th.
Feature results – 1. Cody Laney, Torrance, Calif.; 2. Tim Ward, Harcourt; 3. Justin O'Brien, West Union; 4. Zane DeVilbiss, Farmington, N.M.; 5. Jerry Flippo, Bakersfield, Calif.; 6. Richie Gustin, Gilman; 7. Jake McBirnie, Boone; 8. Lucas Lamberies, Clintonville, Wis.; 9. Paul Nagle, Nevada; 10. J.D. Auringer, Waterloo; 11. Bobby Hogge IV, Salinas, Calif.; 12. Jesse Sobbing, Malvern; 13. Kollin Hibdon, Pahrump, Nev.; 14. Troy Cordes, Dunkerton; 15. Jeff Reay, Portland, Mich.; 16. Jacob Dahle, Morristown, Minn.; 17. Kelly Shryock, Fertile; 18. Ryan McDaniel, Olivehurst, Calif.; 19. Corey Lagroon, Salina, Kan.; 20. Dallon Murty, Chelsea; 21. Cory Sauerman, Johnston; 22. Cory Sample, Winnemucca, Nev.; 23. Jeff Aikey, Cedar Falls; 24. Troy Morris III, Bakersfield, Calif.; 25. Dylan Thornton, Santa Maria, Calif.; 26. Keaton Atkinson, Hot Springs, Ark.; 27. Riley Simmons, Susanville, Calif.; 28. Jeff Larson, Freeport, Ill.; 29. Ethan Dotson, Bakersfield, Calif.; 30. Kyle Brown, Madrid; 31. Mike Van Genderen, Newton; 32. Ethan Braaksma, Newton; 33. Tom Berry Jr., Des Moines.