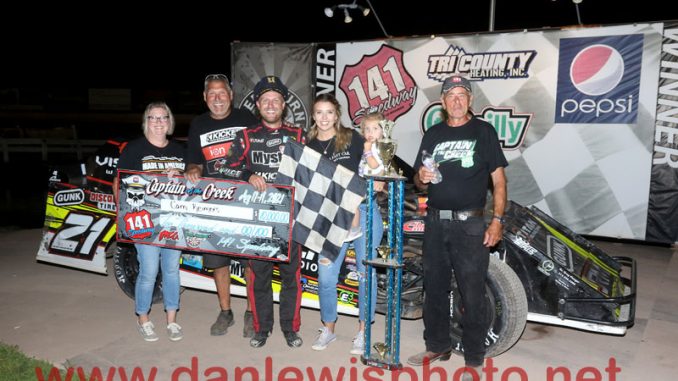 FRANCIS CREEK, Wis. (Aug. 19) – Cam Reimers sailed to the $10,000 checkers in the Captain of the Creek feature for IMCA Karl Kustoms Northern SportMods at 141 Speedway.
Then he enjoyed some more Wisconsin hospitality, signing autographs and sampling barbeque in the pit area at Francis Creek along with several hundred new friends.
The outside front row starter led all 50 laps of the Thursday night main event, keeping Jayden Schmidt in second most of the distance before holding hard charger Elijah Koenig at bay the last four times around the track.
After back-to-back cautions on lap nine, Reimers and his closest challengers ran in traffic much of the night as the race stayed green to the checkers.
"It's awesome. It was a really good race," he said. "I didn't want to give the lead up early. My tires were pretty tired at the end of the race. I didn't know if Jayden had gotten by me if we'd be able to catch back up."
A DNQ in his first visit to 141 two years ago, Reimers had won his Wednesday night heats from eighth starting and from fifth, then decided against making any setup changes for the big show.
Koenig made his big charge from 15th starting and got as close as a car length before Reimers edged away. Schmidt had started eighth and was into the runner-up spot following the second lap nine restart.
Cody Rass and Colby Fett rounded out the top five. Ninety-one Northern SportMods were entered in the third annual event.
"This win is at the top of my list for circle track," said Reimers, who'd previously enjoyed Badger State success as winner of the off-road World Championship at Crandon International Raceway in 2015. "This stuff is all hard because everyone is so good."
Feature results – 1. Cam Reimers; 2. Elijah Koenig; 3. Jayden Schmidt; 4. Cody Rass; 5. Colby Fett; 6. Cory Kemkes; 7. Jeff Schmuhl; 8. Troy Hovey; 9. Brayton Carter; 10. Robert Wittkopf; 11. Randy LeMieux Jr.; 12. Ryan Schmidt; 13. Jake Carpenter; 14. Jim Horejsi; 15. Johnathon Logue; 16. Timothy Warner; 17. Jacob Zellner; 18. Jesse Cullen; 19. Gabriel Zellner; 20. Jeffrey Teske; 21. Josh Appel; 22. Jason Zdroik; 23. Skyler Woods; 24. Jake Sachau.