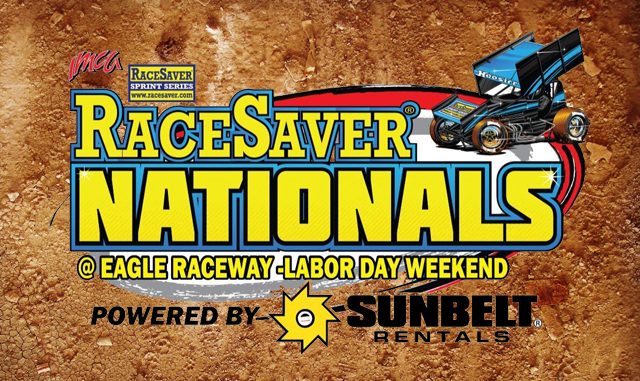 EAGLE, Neb. – New bleachers and water balloons lead up to the ninth annual IMCA RaceSaver Nationals.
One hundred and eight drivers from 16 states have already signed on to compete at the Sept. 2-5 Sprint Car spectacular at Eagle Raceway, to be broadcast by IMCA.TV.
Twenty-seven cars will start the Sunday, Sept. 5 main event, with the winner earning $3,000 plus a $1,500 bonus from IMCA if they have made at least one sanctioned start coming into the weekend. The finale pays a minimum of $1,500 to start.
New bleacher seating, designated as 'The Party Section', for another 2,500 fans will be in place at the top of turn four. That timely addition boosts capacity at America's Home Track to 9,000.
"It's something we've wanted to do for a while and decided to get done a couple months ago," explained promoter Roger Hadan. "That was a good decision given the number of pre-event ticket sales so far."
"We have a good combination now of pre-registered drivers who have been regulars at RaceSaver Nationals and first-timers," he added. "We've also got a number of drivers who have raced here before but haven't been able to come back who are returning this year."
RaceSaver pays every heat winner during the event $100. Fans helped add to non-qualifiers' share of the purse during intermission at a weekly show, paying to throw water balloons at Hadan and other track officials.
"That should be popular," Hadan had predicted, dryly.
Non-qualifying drivers who races all three days receive a minimum of $450 for the weekend. Sunday's first non-qualifier in the "B" feature takes home $1,000 and the minimum to start that race is $500.
Thursday, Sept. 2 pre-tech begins at 9 a.m. and practice runs from 6-8:40 p.m. followed by qualifying for the Precise Racing Products Race of Champions on Saturday. Grandstands and pits open at 5 p.m. with pit passes $15. Spectator admission is $3 with 12 and under free.
Competition begins Friday, Sept. 3 with heats, preliminary features and the "A" feature which will set the first three rows for Sunday's main event. Pits open at 3 p.m. and pit passes are $35. Grandstands open at 4:30 p.m. with adult admission $15.
Saturday qualifying sees heats and features to decide rows four through six for Sunday. Front gates open at 4:30 p.m. Admission for adults is $18. Pits open at 3 p.m. and pit passes are $35.
The Precise Racing Products Race of Champions follows the Saturday qualifying feature. That race pays $1,000 to win.
Preliminary features fill the last three rows for Sunday's 30-lap Big Dance. Front gates open at 4:30 p.m. and adult admission is $20.
Kids ages 6-12 get into the grandstand for $5 and six and under are free each night.
IMCA Sunoco Hobby Stocks are on the Friday program, Karl Kustoms Northern SportMods on Saturday and IMCA Sunoco Stock Cars on Sunday.
Drivers already registered for the RaceSaver Nationals Powered by Sunbelt Rentals include:
Gene Ackland, Martell
Brandon Allen, St. Peter, Minn.
Bruce Allen, Mankato, Minn.
Justin Allen, Gaylord, Minn.
Shayle Bade, Lincoln
Dusty Ballenger, Harrisburg, S.D.
Ethan Barrow, Bloomington, Ind.
Clint Benson, Papillion
Zach Blurton, Quinter, Kan.
Daren Bolac, Moyock, N.C.
Brandon Bosma, Rock Rapids, Iowa
Mike Boston, Lincoln
Chase Brewer, Waxahachie, Texas
Nick Bryan, Lincoln
Casey Burkham, Seagoville, Texas
Owen Carlson, Somerset, Wis.
John Carney, Lubbock, Texas
Dwight Carter, Lincoln
Kevin Champoux, Indianapolis, Ind.
Toby Chapman, Panama
Justin Clark, Hamersville, Ohio
Taylor Courtney, Fort Worth, Texas
Steve Cousins, Eldred, Pa.
Rod Craddock, Alvin, Texas
Luke Cranston, Holcomb, Kan.
Jason Danley, Lincoln
Joey Danley, Martell
Alex Davenport, Lincoln
Chris Douglas, Amarillo, Texas
Tyler Drueke, Eagle
Jeff Emerson, Millsap, Texas
Dennis Engelhaupt, Page
Claud Estes, Godley, Texas
Colby Estes, Mansfield, Texas
Daniel Estes, Mansfield, Texas
D.J. Estes, Fort Worth, Texas
Monty Ferriera, Lincoln
Zach Foesch, Bird Island, Minn.
Jake Galusha, Lincoln
Bill Garrow, Lincoln
Jacob Gomola, Guys Mills, Pa.
Chip Graham, Lewisville, Texas
Trevor Grossenbacher, Panama
Adam Gullion, Lincoln
Ryan Hall, Midlothian, Texas
Rick Hansen, Omaha
Jacob Harris, Vidor, Texas
Tyler Harris, Vidor, Texas
Rod Henning, Monrovia, Ind.
Logan Hershey, Gillette, Wy.
Mike Houseman, Des Moines, Iowa
Andrew Jackson, Fremont
Jared Jansen, Parker, S.D.
Junior Jenkins, Greenville, Texas
Nathan Johnson, Hastings
William Johnson, St. Peter, Minn.
Ryan King, Bennet
Doug Lovegrove, Waverly
Jason Martin, Crete
Keith Martin, Burleson, Texas
Justin Melton, Justin, Texas
Casey Merrell, Springtown, Texas
Mike Moore, Des Moines, Iowa
Alex Nalon, Pittsboro, Ind.
Dennis Nalon, Pittsboro, Ind.
Danny Nekolite, Oneill
Heath Nestrick, Caddo Mills, Texas
Michael Oliver, San Antonio, Texas
Mark Pace, Lincoln
Caleb Padgett, Madisonville, Texas
Steven Padgett, Madisonville, Texas
John Paynter Jr., Bloomington, Texas
Jeff Pendergast, Norfolk
Boyd Peterson, Ithaca
Gunnar Pike, South Bend
Shon Pointer, Grand Island
Sean Quinn, Clovis, Calif.
Kevin Ramey, Fort Worth, Texas
Kyle Rasmussen, Clovis, Calif.
James Reed, Holdrege
Willy Reed, Anderson, Texas
Jeffrey Reiman, Fort Worth, Texas
Matt Richards, Lincoln
Terry Richards, Denton
John Ricketts, Burleson, Texas
Josh Riggins, Lincoln
Jay Russell, Wathena, Kan.
Brandon Sampson, Mesa, Ariz.
Troy Sanford, Lincoln
Dan Satriano, Omaha
Jeremy Schultz, Stewart, Minn.
Blake Scott, Pauls Valley, Okla.
Trevor Serbus, Olivia, Minn.
Stuart Snyder, Lincoln
Michael Stien, Ceylon, Minn.
Orry Stevens, Spring Creek, Nev.
Dustin Stroup, Fremont, Ohio
Landon Thompson, Haslet, Texas
Christopher Townsend, Cleveland, Texas
Jerrad Warhurst, Joshua, Texas
John Webster, North Platte
Chase Weiler, Lincoln
Nathan Weiler, Omaha
Chad Wilson, North Richland Hills, Texas
Jeff Wimmenauer, Greenwood, Ind.
Danny Wood, Norman, Okla
Mark Zoeller, Rockett, Texas