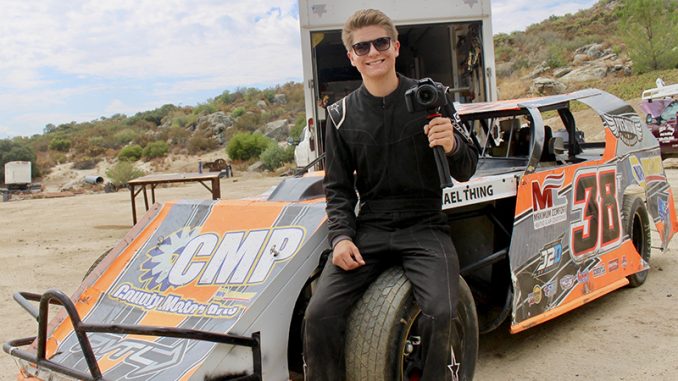 CAMPO, Calif. – Michael Thing Jr. will make the long tow to the IMCA Speedway Motors Super Nationals fueled by Casey's to do three of the things he enjoys most. 
He'll race an IMCA Modified.
He'll keep thousands of social media followers up-to-date on travels to and from Boone Speedway, and his on- and off-the-track adventures during America's Racin' Vacation.
And he'll make a lot of new friends
The 17-year-old from Campo, Calif., a senior at San Diego Virtual High School, has set the gold standard for sharing his racing experiences, interviews and interactions with his family and other drivers using a multi-platform social media approach that includes Instagram, Youtube and Facebook.
"I've been racing a Modified since I was 14 and this is something we've done since then," Thing explained. "People really enjoy the racing. We show fans more of what happens in the pits and do our best to engage with them, responding to comments, questions and suggestions. We do giveaways, like T-shirts, too. The fans are supporting us so we want to give back to them."
"We don't rely on a script and we never re-enact. It's kind of like a reality show. You have a lot of ups and downs but everything is pretty straight forward," he explained. "I've seen a lot of kids and fans, as well as drivers filming their own videos since I started. There have been parents who have seen my videos, complimented me and told me to keep up the good work."
The reach of social media is emphasized in recruiting and retaining sponsors, as well as inspiring viewers to become involved, or more involved in racing.
While Thing is the face to the A Journey To Where I Want To Go channel, a path he hopes leads to a full-time career in the sport, his sister Emilee does the filming and heads the social media side of the race team.
Their father Michael Sr. is crew chief and jack of all trades and mother Sherry helps wherever needed.
Candidates for the event long tow award, they'll start documenting while making their third trek to Super Nationals following an 1,800 mile route from Campo, an hour east of San Diego, through Arizona, New Mexico, Colorado, Kansas, Nebraska and western Iowa.
One of Thing's most popular videos, with more than 15,000 views, was of the reaction to his disqualification, for lack of three welds on a new wheel cover, from a second-place finish in a heat race at Super Nationals in 2019.
"Our luck was terrible that year but we got thousands of views. The fans were awesome and when we came back the next year a lot of people knew who I was," he said. "We've tried to update our fan base all season long."
"I'm looking forward to racing at Super Nationals again this year," Thing continued. "I enjoy meeting new people, I enjoy getting to do what I love and I get to be with my family."