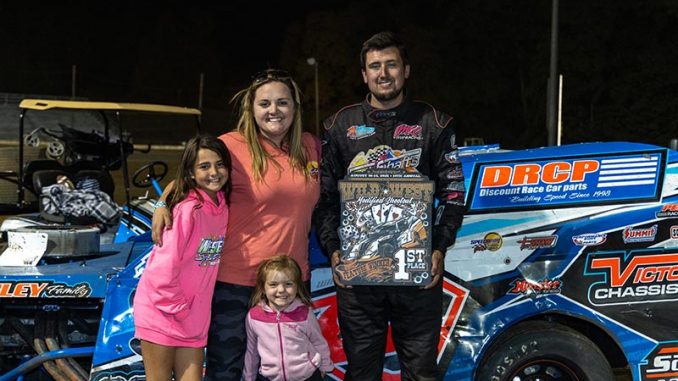 By Ben Deatherage
COTTAGE Grove, Ore. (Aug. 9) – Collen Winebarger became the first repeat IMCA Modified winner when the Wild West Shootout traveled to Cottage Grove Speedway Monday night.
The 40-lap feature got off to a rough start with a multi-car tangle on the initial green.
When racing resumed, Winebarger took over the lead and held onto the front spot through five restarts.
Winebarger witnessed a brief scare when he went off of the top of the final set of corners in lapped traffic on lap 30. He was beaten to the line by Jesse Williamson, but a yellow came out before the entire lap was considered complete, thus giving him back the lead.
Winebarger dominated the rest of the distance Already Fast Shafts All-Star Invitational qualifying eligible, he earned $1,000. Williamson was second, followed by Mark Carrell, Eston Whisler and Eric Ashley.
In his first-ever appearance at CGS, Ryan Peery was the juggernaut in the Karl Kustoms Northern SportMod main.
Peery won his second race of the week ahead of Dustin Comer, Aaron Bloom, Justin Ryker and Jordan Henry.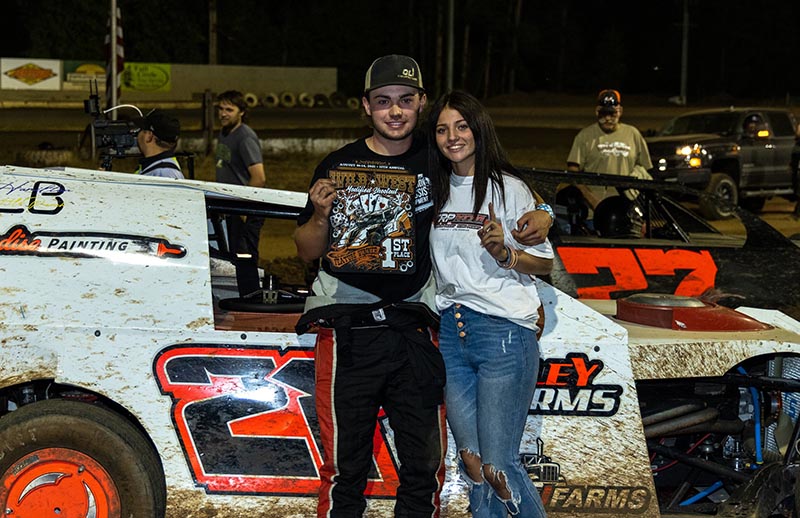 Ryan Peery collected his second Karl Kustoms Northern SportMod Wild West Shootout checkers of the week Monday at Cottage Grove. (Photo by Cody Reeder)
The Wild West Modified Shootout remains at Cottage Grove Speedway on Tuesday, August 10th, for the fifth round of the 2021 calendar. Both IMCA Modifieds and Karl Kustoms Northern SportMods, presented by Royalty Core Customs Grille & Truck Parts, will be in the house.
All Wild West Modified Shootout dates are broadcast by IMCA.TV.
Feature Results
Modifieds – 1. Collen Winebarger; 2. Jesse Williamson; 3. Mark Carrell; 4. Eston Whisler; 5. Eric Ashley; 6. Curtis Towns; 7. Jeffrey Hudson; 8. Jake Mayden; 9. Paul Rea; 10. Paul Culp; 11. Chance Hyser; 12. Aaron Sheelar; 13. Ricky Ashley; 14. Devon Reed; 15. Brian Thompson; 16. Danny Lauer; 17. Robert Jenner; 18. Andrew Mathers; 19. Preston Luckman; 20. Matthew Drager.
Northern SportMods – 1. Ryan Peery; 2. Dustin Comer; 3. Aaron Bloom; 4. Justin Ryker; 5. Jordan Henry; 6. Kevin Kopchan; 7. Ray Bloom; 8. Keith Foux; 9. Mike Desilva; 10. Dalton Bloom; 11. Tanner Krohling; 12. Mike Fricklin; 13. Chuck Carson; 14. K.C. Scott; 15. Jacob Dewalt; 16. Matt Sanders; 17. Christopher Frisbie; 18. Trevor Points; 19. Shawn Hand; 20. Skyler Winebarger.