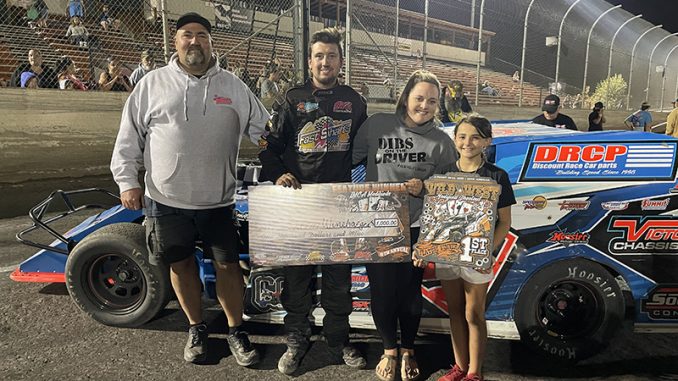 By Ben Deatherage
LEBANON, Ore. (Aug. 7) – Collen Winebarger proved the master of lapped traffic on night two of the Wild West IMCA Modified Shootout at Willamette Speedway on Saturday.
When the action got started for the 40-lap IMCA Modified main event, Winebarger seized control of the top spot on the first lap. The race turned out to be one based on stamina as the lone caution was seen on lap seven.
This presented heavy lapped traffic for the leaders to deal with and made things interesting from time to time.
Winebarger was briefly bottled up in traffic but managed to make a pivotal move to get through the tail end of the lead lap cars, then motored to win his ninth career Wild West Shootout event and record-setting fifth checkers at Lebanon. The win paid $1,000 to Winebarger, already Fast Shafts All-Star Invitational qualifying eligible.
Jeffrey Hudson was second while Eston Whisler finished third. Jerry Schram and Brian Thompson completed the top five.
Skyler Winebarger, Collen's younger brother, was master of the class early in the 25-lap Karl Kustoms Northern SportMod feature.
Just when it looked like Skylar was en route to the win, a last-lap battle for the top place position erupted and Ryan Peery soared around the top side to pull off the triumph.
Aaron Bloom came across the line in second and third in the melee was Matt Sanders. Dustin Comer ended fourth over David Schmidt.
Feature Results
Modifieds – 1. Collen Winebarger; 2. Jeffrey Hudson; 3. Eston Whisler; 4. Jerry Schram; 5. Brian Thompson; 6. Jake Mayden; 7. Jesse Williamson; 8. Mark Carrell; 9. Ian Whisler; 10. Curtis Towns; 11. Mark Gaylord; 12. Danny Lauer; 13. John Gaynor; 14. Andrew Mathers; 15. Devon Reed; 16. Paul Rea; 17. Jared Domingos; 18. Todd Shandy; 19. Greg Walters; 20. Chad Groves.
Northern SportMods – 1. Ryan Peery; 2. Aaron Bloom; 3. Matt Sanders; 4. Dustin Comer; 5. David Schmidt; 6. Greg Schellhorn; 7. Skyler Winebarger; 8. Ron Wilson; 9. Trevor Points; 10. Ray Bloom; 11. Ray Comer Jr.; 12. Dalton Bloom; 13. Bruce Ray; 14. Tanner Krohling; 15. Doug Coffman; 16. Sandy Sanders; 17. Chris Frisbie; 18. Jeff Brookshire; 19. Keith Foux; 20. Daniel Ray.