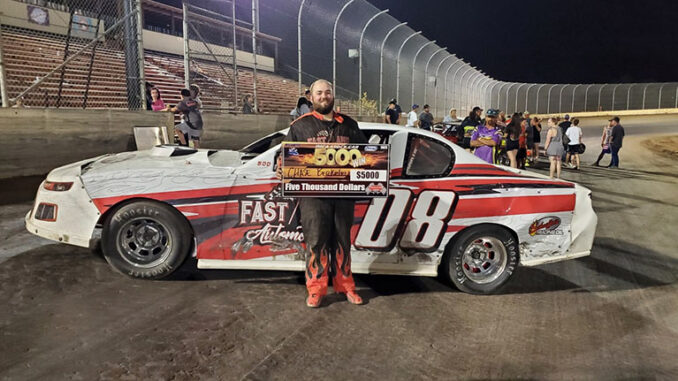 LEBANON, Ore. (July 30, 2022) – Chase Berkeley put an end to his string of second-place finishes and put his IMCA Sunoco Stock Car in victory lane Saturday night at Willamette Speedway. 
Then he put $5,000 in the bank after his career-best payday.
Berkeley raced from ninth starting and led the last 18 times around the track in the 50-lap marathon at Lebanon, holding Jesse Williamson at bay after a restart with six to go.
"The best part about winning was that I'd had a streak of second place finishes coming into the night," said the Colville, Wash., hotshoe, who'd clinched the Wild West Shootout crown with runner-up showings at Willamette and at Sunset Speedway Park, then ran second behind Collen Winebarger at Sunset's 50-lap, $5,000 to win show on July 16. "It felt good to be back in the top spot."
Berkeley's first win on the season, at Coos Bay Speedway, paved the way to the Wild West Shootout crown. His second earned him a guaranteed starting spot in the B & B Racing Chassis All-Star Invitational.
With many of the best drivers from across the Pacific Northwest in the field at Willamette, both Berkeley and Williamson were tasked with racing to the front from fifth row starts.
The first 30 laps ran green. Berkeley then took the lead on the third of three quick restarts, staying on the point following that late yellow and beating Williamson to the checkers by two seconds.
Dakota Godard, Graig Osborne and Donald Schott rounded out the top five.
"I was trying to bide my time," said Berkeley, a veteran of long-distance races. "I knew I had to be patient, pick off cars when I could and save my equipment for the end."
Feature results – 1. Chase Berkeley; 2. Jesse Williamson; 3. Dakota Godard; 4. Graig Osborne; 5. Donald Schott; 6. Jerry Schram; 7. Greg Walters; 8. Mark Carrell; 9. Grey Ferrando; 10. Kersey Ferrando; 11. Collen Winebarger; 12. Taunton Swaim; 13. Burke Elkins; 14. Tiana Wild; 15. Dylan Boyer; 16. Sid Schott; 17. P.J. Humphrey; 18. John Gumaer; 19. Zach Simpson; 20. Landyn Philpott; 21. Chris West; 22. Tanner Bridges; 23. Calista Johnson.