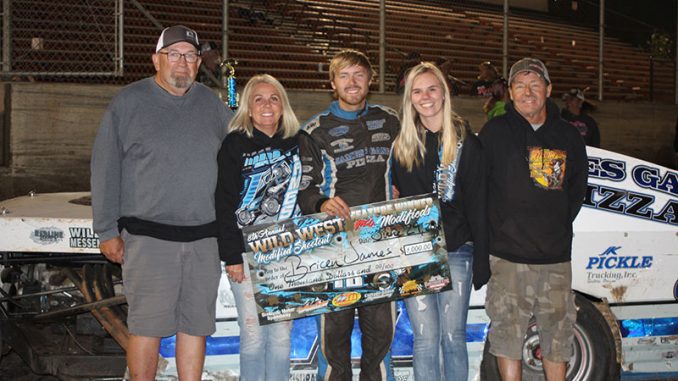 By Ben Deatherage
LEBANON, Ore. (June 29) – Night number seven of the Wild West IMCA Modified Shootout be­longed to Bricen James.
The Albany speedster gained the lead near midway and led to the $1,000 checkers Friday at Willamette Speedway, earning his tour career first victory and a berth on the Fast Shafts All-Star Invitational ballot.
Rob Mayea made his first start with the series and got to the front on the initial green. Mayea was mighty fast while leading but unfortunately got caught up with a lapped car on the 13th circuit. Although Mayea retained the lead due to not stopping, his car was sustained enough damage to take him out of contention for the victory.
On the restart, James blazed past Mayea and officially took over first place on lap 14. James tried to separate from the rest of the field but a handful of contenders gave chase.
The race started intensified as lapped traffic came into the picture in the last laps. James kept all challengers in check to become the sixth different winner in seven 2018 events thus far.
Jesse Williamson was second while John Campos took third. Grey Ferrando and Greg Walters completed the top five.
Feature results – 1. Bricen James; 2. Jesse Williamson; 3. John Campos; 4. Grey Ferrando; 5. Greg Walters; 6. Ethan Dotson; 7. Dustin Cady; 8. Collen Winebarger; 9. Jerry Schram; 10. Brian Thompson; 11. Curtis Towns; 12. Lawrence O'Connor; 13. Jimmy Schram; 14. Sam Potter; 15. Jeff Faulkner; 16. Preston Luckman; 17. Aaron Sheelar; 18. Brian Wulfenstein; 19. Paul Rea; 20. Danny Lauer; 21. Rob Mayea; 22. Jeff Lovell.