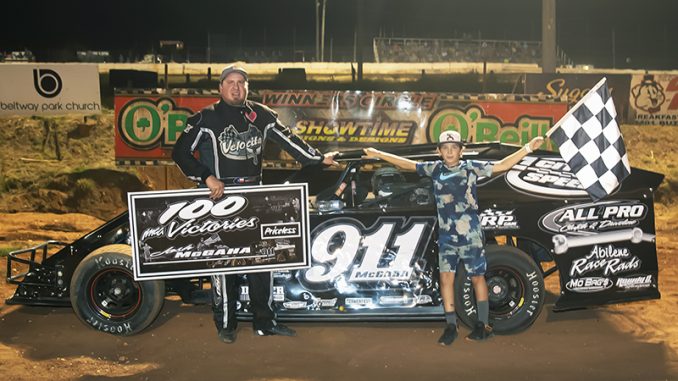 ABILENE, Texas – Josh McGaha checked another accomplishment off his IMCA Modified to-do list.
McGaha won his career 100th feature in the division on July 31, getting the best of Kade Ogle in a back-and-forth battle that played out in front of a big crowd at home town Abilene Speedway.
"This is one of the top moments of my career and I wanted to check it off my list this year," McGaha said following his sixth win of the season, all of them at Abilene. "Kade and I duked it out for 18 laps of side-by-side racing and I got him on the white flag lap. I raced with his dad Vince for years so it kind of felt a little bit like the passing of the torch."
"One hundred wins is a milestone most drivers never reach," he added. "I feel like some day I can be sitting in the grandstand talking with all the other old guys knowing I've etched my name as a solid competitor."
Just the 63rd driver in division history and the eighth from Texas with 100 career wins, McGaha raced a go-kart and hot lapped his father's hobby stock a couple times before graduating to the Modified ranks.
He promptly came within a lap or two of beating Henry Witt Jr. for his first IMCA victory as a 16-year-old rookie and has been a solid runner ever since.
McGaha won a season-best 13 features in 2012, was champion of the Razor Chassis South Central Region in 2018 and raced to another career-type highlight the following fall, winning the Southern Challenge special. He also owns seven track championships at Abilene.
"The competition is so tough now," said McGaha, in the hunt for a fourth consecutive Abilene crown. "I can remember when you could win 10 or 12 times in a year. Everyone just keeps getting better. To knock off 10 wins in a season has been tough."
He's been sponsored since Day One by A-City Speed, a business he recently purchased. Jay Grimes has crewed for McGaha the last 10 years and Jonathan Campbell helps at shows close to home.
McGaha's wife Mandi and parents Tom and Ursula have been in his corner since he started racing. Team McGaha has expanded to include sons Gavin, who races a Smiley's Racing Products Southern SportMod, and Jaxon, now in the junior mini's.
"Once racing gets in your blood, it's hard to stop," McGaha said. "I enjoy it more now than ever. There's a whole different perspective when your kids get into it."