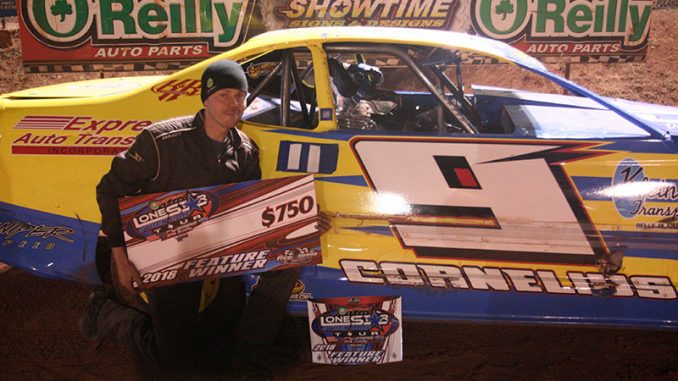 ABILENE, Texas (Feb. 16-17) – A first-time racing visitor to Texas and a regular visitor to Abilene Speedway's victory lane were IMCA Sunoco Stock Car feature winners at the season-opening Ice Breaker.
Dean Cornelius topped the Friday night feature while Dean Abbey took the Saturday checkers. Nearly 60 entries from 10 states and Canada saw action as both features doubled as Sniper Speed Lone Star Tour-sponsored events and paid $750 to win.
Cornelius had traveled to Texas just once previously, catching a rodeo while on vacation in 2017. He won in his first night out in a new Sniper that had been driven just once previously … in a foot of snow a week earlier on a county road near his Minnesota home.
After passing Abbey to win their heat race, he drew the pole and led green to checkers.
"It was a really cool way to start the series. I just hung onto the bottom," said Cornelius. "Sniper encouraged us to come and we said 'Let's do it.' There's no better way to start the tour and by the time we get home we'll have eight races in a new car."
William Gould, Cayden Carter, G.W. Egbert IV and Jason Schoenberger were scored next as differ­ent states were represented by each of the top five finishers.
A four-time Ice Breaker winner in a Southern SportMod, most recently in 2015, Abbey passed Angel Munoz following a mid-race caution en route to the Saturday win.
The win was the second of the season for Abbey, who had been a DNF after catching an infield tire on opening night.
Munoz, P.J. Egbert, Jason Rogers and defending EQ Cylinder Heads Southern Region champion Kirk Martin were hot in pursuit as the event ended with a couple late cautions that made the race closer than Abbey liked.
"I've been on two different ends of the board. I either win or I don't finish," he said. "I've got to get more consistent."
Josh Most and Gabe Tucker were two-time winners at Abilene, in the IMCA Modified and Smi­ley's Racing Products Southern SportMod divisions, respectively.
Most took the $700 Friday checkers ahead of Fred Wojtek and Josh McGaha. Chase Allen and McGaha rounded out Saturday's top three.
Tucker raced to career wins number 90 and 91 in the division, winning ahead of Justin Shaw and Steve Hayes on opening night and ahead of Doug Easterling and Robert Crabtree III on Saturday. Both features paid the former national champ $600 to win.
And $250 IMCA Sunoco Hobby Stock winners were Brady Bencken and Ryan Wilkerson.
Wilkerson and Gerald Spalding Jr. were next across the stripe on Friday. Bencken was runner-up and Rodney Sparks ran third on Saturday.
Feb. 16 Feature Results
Stock Cars – 1. Dean Cornelius; 2. William Gould; 3. Cayden Carter; 4. G.W. Egbert IV; 5. Jason Schoenberger; 6. Dillon Smith; 7. Billy Wade; 8. Jason Rogers; 9. Elijah Zevenbergen; 10. Westin Ab­bey; 11. Kirk Martin; 12. Colby Deming; 13. Brad Derry; 14. Jason Adcock; 15. Jody York; 16. Tyler Muirhead; 17. Dean Abbey; 18. Kyle Falck; 19. Damon Hammond; 20. Angel Munoz; 21. A.J. Dancer; 22. Brendon LaBatte.
Modifieds – 1. Josh Most; 2. Fred Wojtek; 3. Josh McGaha; 4. Jeff James; 5. Tyler Iverson; 6. Chase Allen; 7. Andy Gage; 8. Jeffrey Abbey; 9. Chris Bragg; 10. Colin Deming; 11. Matt Guil­laume; 12. Charles Brewer; 13. Danton Odell; 14. Danny Hogue; 15. Kade Ogle; 16. William Gould; 17. Tommy Fain; 18. Mark Patterson; 19. Joe Spillman; 20. Jeff Larson. 
Southern SportMods – 1. Gabe Tucker; 2. Justin Shaw; 3. Steve Hayes; 4. Tyler Fain; 5. Terry Owen; 6. David Sanford; 7. Doug Easterling; 8. Matt Mueller; 9. Robert Elliott; 10. Robert Crab­tree III; 11. Trevor Raney; 12. Robert Cook; 13. Scot Raney; 14. J.P. Vasquez  Jr.; 15. George Egbert III; 16. Koty Kowalewski; 17. Aaron Patterson; 18. Bradley Poor; 19. Ryan Thomas.
Hobby Stocks – 1. Brady Bencken; 2. Ryan Wilkerson; 3. Gerald Spalding Jr.; 4. Mike Watkins; 5. Adam Goff; 6. Michaela Scott; 7. Clinton Brown; 8. Kyle Singleton; 9. Carolyn Botts; 10. Jona­than Boles. 
Feb. 17 Feature Results
IMCA Stock Cars – 1. Dean Abbey; 2. Munoz; 3. P.J. Egbert; 4. Jason Rogers; 5. Martin; 6. Wes­tin Abbey; 7. Abe Huls; 8. G.W. Egbert IV; 9. Carter; 10. LaBatte; 11. Cornelius; 12. Mark Adams; 13. Adcock; 14. Smith; 15. Derry; 16. Hammond; 17. Duain Pritchett; 18. Kenny Merritt; 19. Zevenbergen; 20. Aaron Corley; 21. Cody Kays.
Modifieds – 1. Most; 2. Allen; 3. McGaha; 4. James; 5. Wojtek; 6. Fain; 7. Eickhoff; 8. Abbey; 9. Larson; 10. Deming; 11. Chad Melton; 12. Robbie Daniels; 13. Patterson; 14. Guillaume; 15. Vince Ogle; 16. Spillman; 17. H. Chance Brown; 18. Brewer; 19. Iverson; 20. John Gober.
Southern SportMods – 1. Tucker; 2. Easterling; 3. Crabtree; 4. Shaw; 5. Fain; 6. Dustin Robin­son; 7. Hayes; 8. Bragg; 9. Sanford; 10. Mueller; 11. Trevor Raney; 12. Colin Cloud; 13. Rob Bland; 14. Tanner Houston; 15. Cook; 16. Elliott; 17. Thomas; 18. James McCreery; 19. Owen; 20. Poor.
Hobby Stocks – 1. Wilkerson; 2. Bencken; 3. Rodney Sparks; 4. Watkins; 5. Goff; 6. Singleton; 7. Scott; 8. Brown; 9. Botts; 10. Boles; 11. Spalding.