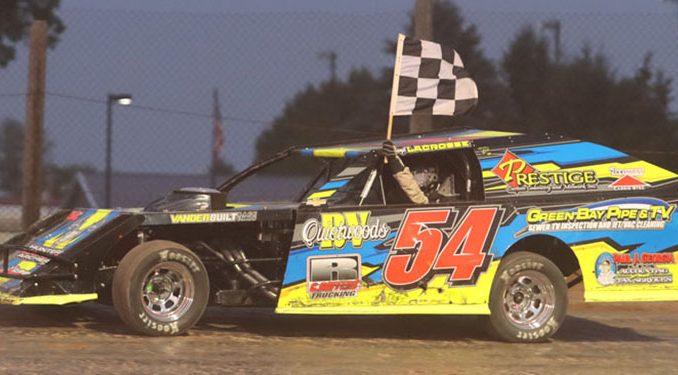 By Joe Orsini
LUXEMBURG, Wis. (Aug. 1) – The 'Burg Speedway celebrated 35 years of sanctioning Modifieds with IMCA on Sunday and Benji LaCrosse celebrated a $3,500 feature win in the evening's headlined division.
A star-studded field of 33 cars rolled in to lay claim to the Mod Mania crown. Included in the field were nine former division champions totaling 25 individual titles at the track over the last 35 years.
2017 champion Todd Dart, pulled a lucky pill to start on the outside of the front row. He wasted no time in capitalizing to lead the opening lap over Greg Gretz. Seven-time time champ Brian Mullen found himself in a three-car battle for third with Mike Mullen and Tyler Wilson.
Wilson briefly won the scrap for third and set his sights on reeling in Gretz in second.
As Dart started catching lapped traffic Gretz still held second, Wilson third, Brian Mullen fourth and Mike Mullen fifth.
That wouldn't last long as three-time track champion LaCrosse found grip on the high side and started running down the top five. It didn't take many laps for LaCrosse to work his familiar no. 54 machine into third with Mike Mullen closely in tow.
As laps continued to click off, LaCrosse worked around Gretz to take second but it did not look like enough time remained to catch Dart as the leader worked his way through slower traffic.
With two laps to go, however, LaCrosse wrestled the lead away from Dart and held on to capture his fourth feature win of the season at The 'Burg. Dart had to settle for leading 33 laps of the feature and taking home second. Mike Mullen finished third, Wilson fourth and Johnny Whitman used the green to checkers run to claim fifth.
Rod Snellenberger was the IMCA Sunoco Stock Car winner and Chris Budzban paced the Karl Kustoms Northern SportMods.