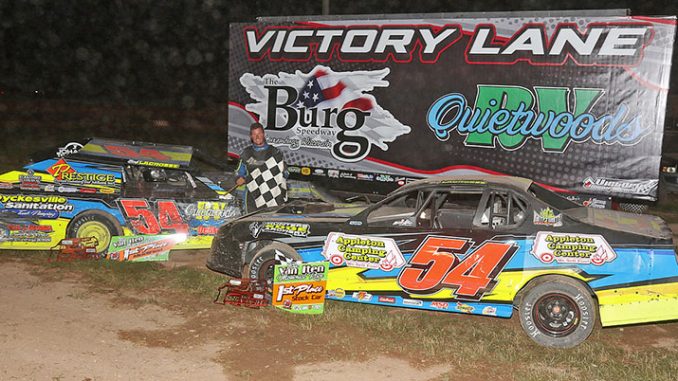 By Joe Orsini
LUXEMBURG, Wis. (July 17, 2022) – Big money brought the big hitters to The 'Burg Speedway for Sunday's second annual Eric Van Iten Memorial and Benji LaCrosse was the two-time big winner. 
LaCrosse earned $7,800 on the night, following his $5,000 IMCA Sunoco Stock Car win with the $2,800 Friesen Performance IMCA Modified checkers. Seventy-one Stock Cars were among the 188 entries for the special night.
Aaron Stolp held serve as he led the opening lap from his P1 starting spot on the Stock Car grid. Back behind the wheel of a Stock Car, Modified hotshoe and 2004 and 2005 track champion Shawn Kilgore quickly raced to second as LaCrosse tiptoed into the third spot.
LaCrosse used the bottom line to take second and went to work on Stolp. He dogged the leader lap after lap before putting his no. 54 machine to the middle groove and finding the grip to complete the pass. LaCrosse held off the pack over the final nine laps and pocketed the first of what would become two nice paydays. Kilgore came home second and Travis Van Straten finished a solid third after rolling out 13th.
With another big check on the line it was an easy decision for LaCrosse to defend his 2021 Van Iten Memorial victory.
He wasted no time in wrestling away the lead from pole sitter Jason Czarapata, then set sail following a lap six restart.
By halfway of the 25-lapper, Wyatt Block worked into the second spot and put his sights on the leader. LaCrosse encountered lapped traffic but Block was unable to mount a challenge and settled for second. Czarapata secured third.
LaCrosse has already been eligible to qualify for the Fast Shafts and B & B Racing Chassis All-Star invitationals.
Troy "Snoot" DeGrave has been the engine powering this event the last two years in memory of his close friend, so when his Friesen Performance IMCA Northern SportMod pill draw ended up being Eric's number 19, the stars looked to align for a magical evening.
DeGrave held off the pack to lead the opening lap but Matthew Radtke quickly stole away the top spot on the inside and then Gabe Zellner used a high side move to grab second.
Cole Czarneski scrapped his way to the lead following a lap 13 restart and when the dust settled and the checkers flew it was Czarneski who parked in victory lane while Radtke regrouped to take second. Jake Carpenter took third.