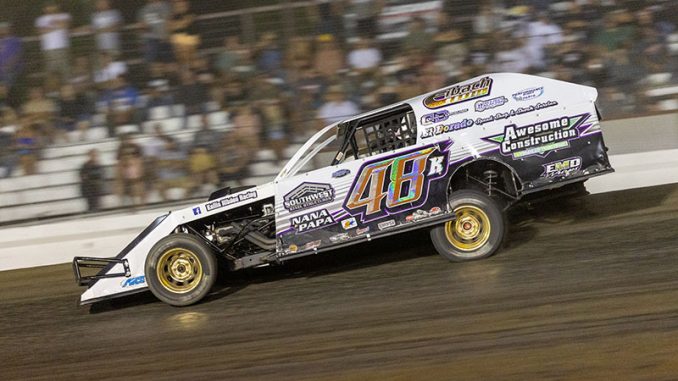 By Rebecca Rattei
JAMESTOWN, N.D. (July 10) – He was on the late side getting to the track but Kollin Hibdon was quick to find his way back to victory lane at Jamestown Speedway Saturday night.
Hibdon won the IMCA Modified feature on opening night of the Corral Sales Dakota Classic Tour, passing Eddie Belec for the front spot with eight circuits left in the 30-lapper.
The 17-year-old speedster from Nevada pulled away from that point. Ethan Dotson worked his way to the runner-up spot, crossing the stripe a straightaway off Hibdon's $2,000 first-place pace.
"This was a good race to win. I've never had the chance to follow this tour before," said Hibdon, also the winner of Jamestown's Don Gumke Racers' Memorial in June and already on the Fast Shafts All-Star Invitational ballot. "There are a lot of good drivers here from a lot of states."
"Twenty-eight guys started the feature," he continued, "and any one of them could win one of these races on any given night."
Hibdon had drawn the pole but it was outside front row starter Belec who took charge early.
Belec was running with lapped cars before a caution with 13 laps left erased his advantage. Hibdon stayed right with Belec on the restart that followed before driving into the lead on the inside line.
Belec, Tim Ward and Dakota Sproul Completed the top five.
Fifty-four Modifieds were entered Saturday with 11 states represented in the main event.
Home state driver Jordan Zillmer started fourth and prevailed in a caution-slowed IMCA Sunoco Stock Car feature, earning $1,000 and becoming eligible to qualify for the B & B Chassis All-Star Invitational. After taking the checkers, Zillmer's throttle stuck and his car rolled several times.
Arizona's two-division star Zachary Madrid was second. North Dakotans Bob Fuegmann, Travis Ulmer and Trent Grager ran third through fifth, respectively.
Thirty-five Stock Cars took to the track at Jamestown.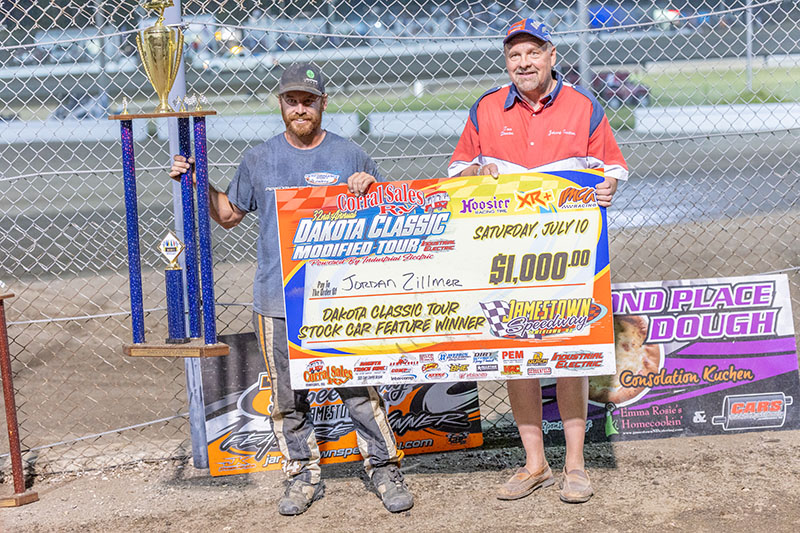 Jordan Zillmer topped Saturday's Corral Sales Dakota Classic Tour opener for IMCA Sunoco Stock Cars. (Photo by Tyler Hagen)
Feature Results
Modifieds – 1. Kollin Hibdon; 2. Ethan Dotson; 3. Eddie Belec; 4. Tim Ward; 5. Dakota Sproul; 6. Jake McBirnie; 7. Cody Laney; 8. Jeff Taylor; 9. Travis Hagen; 10. Spencer Wilson; 11. Shawn Strand; 12. Zach Frederick; 13. Tanner Black; 14. Steven Pfeifer; 15. Zachary Madrid; 16. Dave Shipley; 17. Bricen James; 18. Jaxon Saathoff; 19. Justin O'Brien; 20. Troy Cordes; 21. Casey Arneson; 22. Collen Winebarger; 23. Hank Berry; 24. Dominic Ursetta; 25. Tripp Gaylord; 26. Ricky Alvarado; 27. John Corell; 28. Lucas Lamberies.
Stock Cars – 1. Jordan Zillmer; 2. Zachary Madrid; 3. Bob Fuegmann; 4. Travis Ulmer; 5. Trent Grager; 6. Jake Nelson; 7. Todd Heinrich; 8. Ryan Gaylord; 9. Tyler Ashley; 10. Derrick Kronbach; 11. Scott Gartner; 12. Tyler Bartholomew; 13. Jason Berg; 14. Adam Goff; 15. Mike Swallers; 16. Rick Schulz; 17. Kalvin Kesselberg; 18. Dalton Flory; 19. Angel Munoz; 20. Rob Stenvold; 21. Tim Compson; 22. Travis Robertson; 23. Andrew Jochim; 24. Brennan Borg.