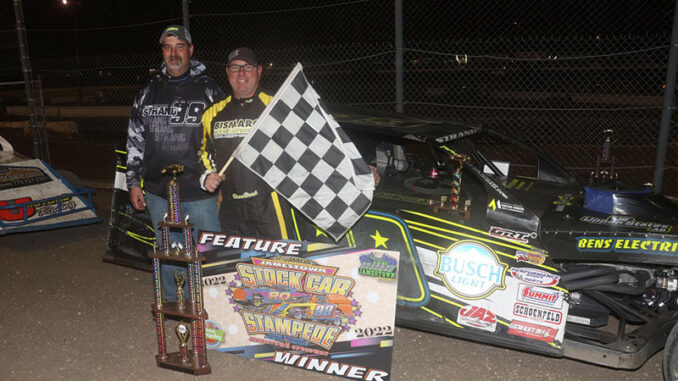 JAMESTOWN, N.D. (Sept. 24, 2022) – Shawn Strand became a two-time champion while Luke Krogh was a two-time winner at Jamestown Speedway's 51st annual Stock Car Stampede.
Strand added a bookend trophy to the hardware he took home in 2020 and earned $3,000 for his Friesen Performance IMCA Modified feature win. Krogh won the first-ever Stampede main event for IMCA Sunoco Stock Cars and the Friesen Performance IMCA Northern SportMod main, collecting $2,000 for each.
One hundred and eleven IMCA cars ran in Jamestown's traditional season-ending special.
"This was incredible," said Strand, who passed Wayne Johnson for the lead and then outran hard charger Kollin Hibdon in the race to the Modified checkers. "This is our most prestigious race in North Dakota. To get the first (trophy) on my shelf was amazing. To get the second one … I'm almost speechless."
"Since the Stampede went IMCA we've run pretty well," continued Strand, who sat out last year's event after selling his car. "Just the last couple years we've had even better success."
He'd started the 25-lapper from outside the front row.
"This race paid $3,000 so it was a good one to win," said Strand, newly eligible to qualify for the Fast Shafts All-Star Invitational after his third victory of the season and career 82nd in the sanctioned division. "We got into traffic late and I had to use my head to get around those guys with Kollin behind me."
Hibdon started 17th and finished second. Brady Bjella, Jeremy Keller and Johnson completed the top five.
Also the Northern SportMod Stampede winner in 2018 and 2019, Krogh was making just his seventh Stock Car start of 2022. He'd won both Stock Car and Northern SportMod features the same night once before, during the Roughrider Days show at hometown Southwest Speedway in July.
"It was pretty amazing," he said following the Stampede sweep. "It was a pretty remarkable night, definitely one I will never forget. To win once at the Stampede is special, to win twice, especially in a class I'm still new at, was really remarkable."
He started third in the Stock Car feature and fifth in the Northern SportMod main.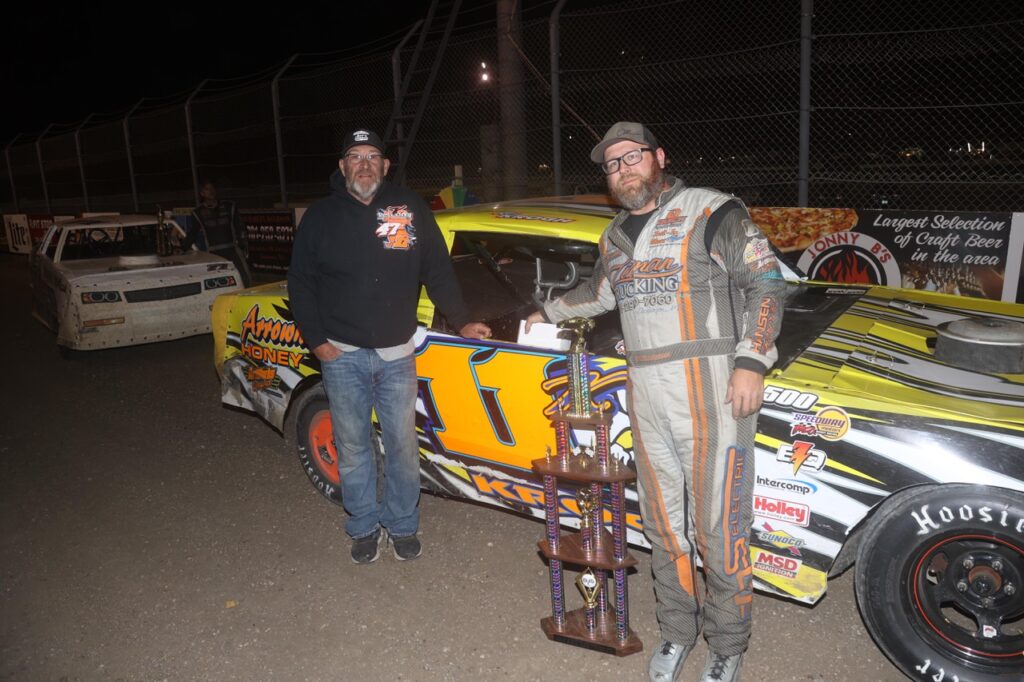 Luke Krogh won both the first IMCA Sunoco Stock Car crown and a career third Friesen Performance IMCA Northern SportMod title at Jamestown Speedway's 51st annual Stock Car Stampede. (Photo by Cody Papke)
"Kelly (Jacobson) ran the top side, I ran the bottom and got around him on a restart in the SportMod feature," Krogh said. "I got to the top side in the Stock Car feature and tried to hang on and hit my marks." 
"We were three and four-wide there for a while," he added. "They say Stock Car racing is the best racing and I have to agree with that."
Trent Grager, Todd Heinrich, Rob VanMil and Troy Nelson were next across the stripe in the Stock Car finish while Jacobson, Darren Medler, Darren Schatz and 18th starting Rich Pavlicek ran 2-5 in the SportMod finale.
The Stock Car win made Krogh eligible to qualify for the B & B Racing Chassis All-Star Invitational and he's already giving thought to taking a racing vacation at Boone Speedway next September.
"That's awesome," Krogh said when informed of his newly-earned B & B Invitational eligibility. "That's pretty cool."