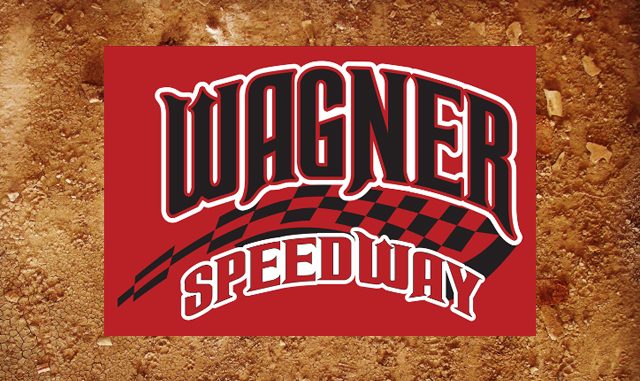 WAGNER, S.D. (June 25) – On an evening that had threats of rain, week eight of the Fort Randall Casino Weekly Racing Series at Wagner Speedway took the green flag Friday night with a mission:  Let's get this show in!
Mission accomplished.
The IMCA Sunoco Hobby Stock main event led off the show and to say that Joel Magee has waited a long time for a win would be the understatement of the year. Magee has a home in Florida and commutes to and from the region multiple times during the summer by air to race at IMCA tracks in the area.
Magee was a five-time champion at Raceway Park at Jefferson, SD and a two-time champion at Park Jefferson International Speedway, also at Jefferson. Following his last win in 1999 at the now defunct Blackbird Bend Speedway outside of Onawa, Iowa, he retired. Recently, Raceway Park placed a replica of Magee's no. 9 Hobby Stock on top of the entrance sign and a group of his friends, after seeing that car, talked Magee into racing again. Magee bowed to peer pressure and he decided to return to racing in 2020. Friday night was Joel's first victory in over 20 years.   
After fighting with the car he started the season with, Magee purchased the car previously owned by Craig Clift. It's a combination that has been very good the last two weeks, to say the least. After starting seventh on the field, Magee used his veteran skills and patience to let things sort out in front of him. Once he was able to get to the front, his work was not complete. Tony Fetterman had worked his way to the front from his 10th starting spot and would not make it easy for Magee. Finally, after two decades, Magee grabbed the victory over Fetterman. Mike Hanson, Jordan Vosika and Matt Rezac. 
The Karl Kustoms Northern SportMods always seem to find two drivers who start in the rear of the field, find their way to the front. But on this night, you can throw a third driver into the mix, which made for arguably the best race of the year.
With four laps remaining, Matt Esterling was leading from his fourth starting spot over Josh Pfeifer, who started ninth, and Dudley Schroeder Jr.,  who started eighth. On the restart, Schroeder made a move to get by Pfeifer for second, then waited. Esterling made one small mistake in turns one and two and that's all the defending champion needed. Schroeder took advantage of the opportunity and picked up his fourth win of the season, with Esterling settling for second. Pfeifer took home third, one place better than his father Jerry and Raymond Bigge completed the top five. 
The IMCA RaceSaver Sprint Cars saw Trefer Waller lead from wire to wire to win his second main event of the season. Waller becomes the only driver in the class that has more than one win in 2021. Danny Nekolite settled for second, John Otte took third, Gary McCarthy fourth and Dennis Englehaupt fifth. Nekolite, who moved up a total of four places in his heat and feature combined, received $50 bonus money with the Turp's Automotive Hard Charger Award. 
Taylor Brown led from green flag to checkered flag in picking up his second win of the season in the Mach-1 Sport Compacts. Conner Brown, Trent Reed, Jerik Stabler and Aaron Wilson completed the top five.
The final event of the evening was the IMCA Sunoco Stock Cars and Brady Wenzlaff garnered his second victory of the season, leading all 15 laps.  Justin Schenkel, making his first appearance at the track, finished in second.  The former hobby stock driver stepped into an IMCA Stock Car this season and looked good in the process. Schenkel was able to hold off many challenges from Joel Namminga, who settled for third, as Joey Jaton and Darwin Ledema completed the top five. 
For a complete listing of all races, finishes and point standings, check out wagnerspeedway.com
The Independence Day weekend will get started in fast fashion, as week nine of the Fort Randall Casino Weekly Racing Series will feature all six classes of cars. Friday will also be the rescheduled Horsepower for Hunger food drive. For each non-perishable food item fans and race teams bring to the track, they will receive numbered tickets, good for drawings to win numerous door prizes. The more food brought, the more chances to win gifts from local businesses and race teams.