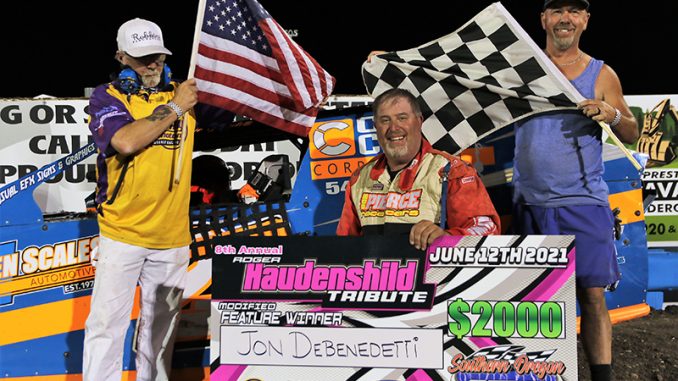 By Stephanie Deatherage 
WHITE CITY, Ore. (June 12) – An IMCA Modified driver who's won a lot of big races in his career won one he described as "something special" Saturday night.
Jon DeBenedetti was in and out of the lead before taking the $2,000 checkers at Southern Oregon Speedway's eighth annual Roger Haudenshild Tribute. The new Fast Shafts All-Star Invitational ballot qualifier had put an engine purchased out of a car that Haudenshild had sponsored into his own ride just the day before.
"We put it in Friday and won with it on Saturday. That was pretty cool," DeBenedetti said. "I told (the previous owner) I'd buy it and win with it and that's exactly what I did."
He'd started third in the 30-lapper and fell back to fifth before running the inside line back to second, behind Zach Fettinger. DeBenedetti's first pass to the front was negated by caution but he moved ahead following the next restart, on lap 13.
Californian Darrell Hughes II saw his bold move rewarded with the front spot on lap 20, but lost the top spot back to DeBenedetti before mechanical issues ended his night early.
DeBenedetti's brother-in-law Jesse Bailey lined up second for what proved to be the final restart. DeBenedetti guarded the lower line, then went back to the fast higher groove for the checkers.
"This one ranks right up there," said DeBenedetti, part of the promotional team that's brought the White City speedplant back from the brink this season. "We've won a lot of big races but to be able to give fans what they paid for was special. This win ranks right up there as one of my most memorable."
The presentation check he received that evening quickly found a place hanging on the wall of DeBenedetti's office.
Fettinger, Bailey, James Welshonse and Dave Duste Jr. rounded out the top five.
Travis Peery was the $1,000 winner in a Karl Kustoms Northern SportMod feature slowed by just two cautions.
Tyler Rodgers blazed the trail for most of the race as lapped traffic became a significant factor. 
As the race developed, Peery came to call. He battled hard with Rodgers in lapped traffic and eventually secured first place on lap 17 but was by no means out of the woods as he still had to deal with some heavy congestion.
Despite the close-quarter action, Peery hit pay dirt and Rodgers was second, followed by Matt Sanders, Ryan Peery, Travis' son,  and Dustin Comer.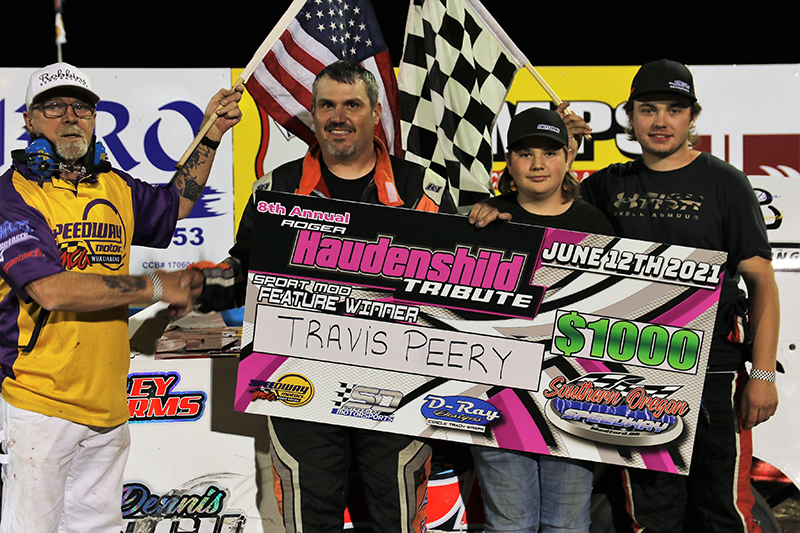 Travis Peery banked $1,000 for his Karl Kustoms Northern SportMod feature win in the Roger Haudenshild Tribute at Southern Oregon Speedway. (Photo by Carole Bryan, Shadows of Light Photography)