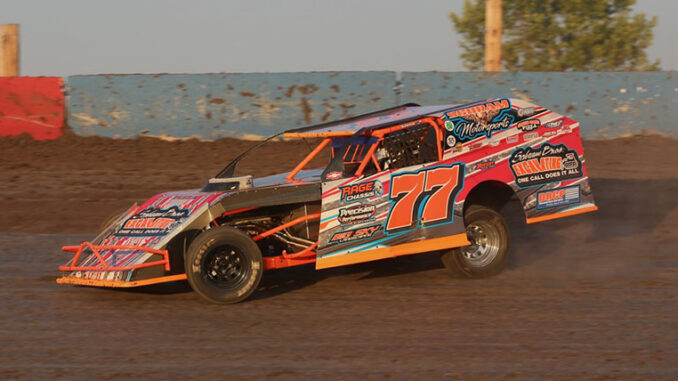 MEDFORD, Ore. (Aug. 19, 2022) – His latest finish in a self-described "pretty dang good year" also turned out to be a Friesen Performance IMCA Modified career-best payday for Bricen James.
The much-traveled James banked $5,500 for his win at Southern Oregon Speedway's 55-lap Bruce Rayburn Classic.
The checkers were his 10th of the season, with those wins coming at seven different tracks in three states.
"We kind of went everywhere this year. We've chased the big races around here and have won a lot of them," said James, who piloted a Jerry Schram-owned ride with his own Rage Chassis on the trailer and ready for the next-week tow to Iowa. "It's been a pretty dang good year for us."
He'd started the main event from the 11th spot and was running in the top five when lap 10 was scored.
After a fuel-only stop at midway, James caught Collen Winebarger for third and then Nick Trenchard for the runner-up spot.
He chased down Jesse Williamson for the lead around lap 40 and stayed in front to the finish, earning the big check along with some redemption following a fourth place finish in the July 3 R. Charles Snyder Salute at Medford.
"We actually led a lot of the race the first time we were here this season and got beat at the end of it," James said. "We were in pretty heavy lapped traffic this time so they were pretty much able to reel me in but I didn't let anybody get by."
Williamson, Trenchard, Winebarger and Ryan McDaniel rounded out the top five.
James' previous top payday was $2,600 and came at Cottage Grove Speedway's Mark Howard Memorial just two weeks prior.
Ethan Killingsworth took the $1,000 Friesen Performance IMCA Northern SportMod checkers, ahead of Fred Ryland and Matt Sanders.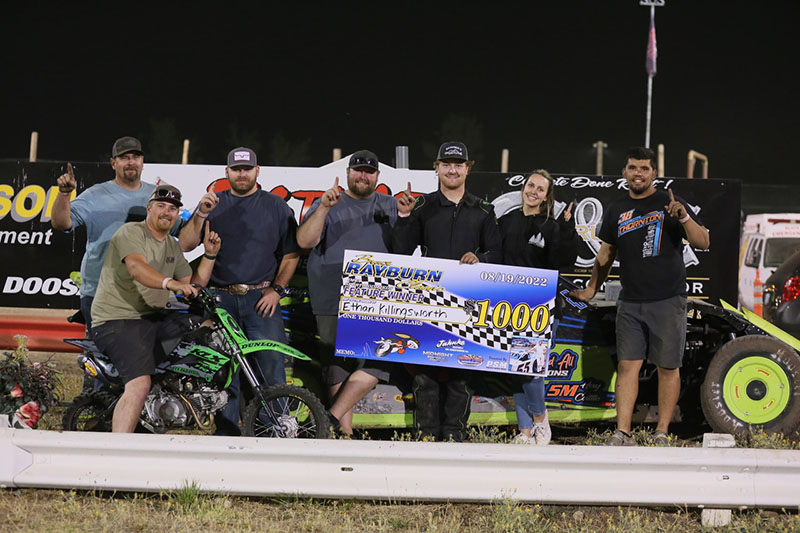 Ethan Killingsworth topped the Friesen Performance IMCA Northern SportMod feature to earn a $1,000 Bruce Rayburn Classic payday. (Photo by Carole Bryan)