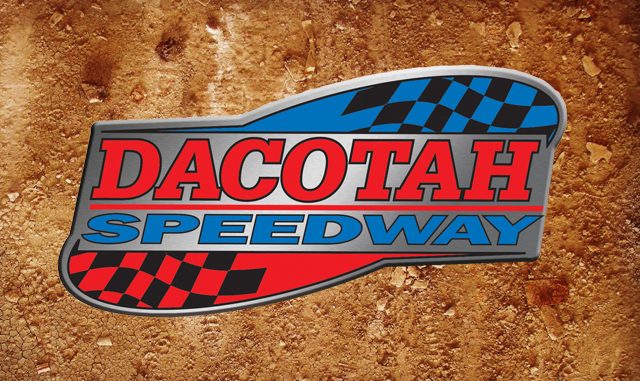 By Rebecca Rattei
MANDAN, N.D. (June 11) – Jeremy Keller checked out on everybody in winning Friday's IMCA Modified feature at Dacotah Speedway.
Tony Marsh started on the pole and when the green flag waved, the eighth starting Keller flew by on the outside and took the lead on lap one. Quentin Kinzley and Marcus Tomlinson battled for second place as Keller started pulling away.
Kinzley cleared Tomlinson for second as Mark Dahl started reeling Tomlinson for third. It soon became a three-car battle for fourth between Tomlinson, Drew Christianson and Marlyn Seidler. Seidler split the middle and took the fourth position.
Near the end of the race, Keller started catching lapped traffic but Kinzley struggled to reel in the leader. Keller led all 25 laps and won by a margin of six seconds over second place Kinzley. Dahl finished third while Seidler crossed the finish line fourth. Shawn Strand rounded out the top five. Lane Doll and Tanner Hofer led the field to the green flag in the Mach-1 Sport Compact feature.
Alex Thompson grabbed the lead early and battled to hold off Ken Sandberg for the lead. Alex Thompson got off the backstretch, which allowed Sandberg to slip by. Sandberg started to pull away as Stan Thompson picked off Doll for fourth and a lap later, passed Hofer for third.
Alex Thompson finished a distant second behind feature winner, Ken Sandberg, who led all 10 laps to win the feature event.