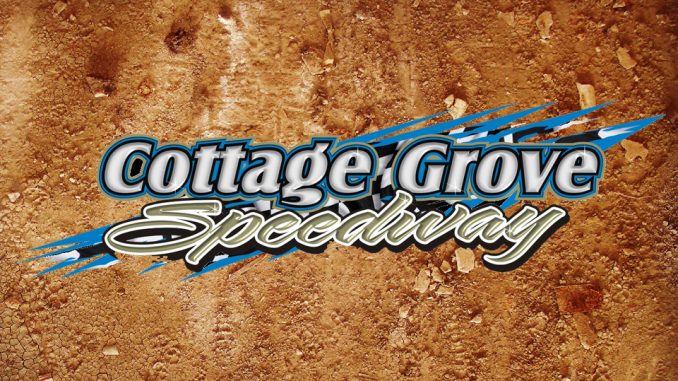 By Stephanie Deatherage  
COTTAGE GROVE, Ore. (June 5) – Bricen James, Ray Bloom and Scarlett Drake didn't kid around with their IMCA competition on Kids' Night at Cottage Grove Speedway.
Paul Rea was quick to get out in front of the IMCA Modifieds in their feature. Rea blazed the trail in the first half of the race but was overtaken on lap 15. James was the one to get to the front and did his very best to create space between himself and second.
Several stoppages kept things close and put a bunch of emphasis on the restarts. In the end, the Albany racer navigated his way around The Grove in first place. James scored his third win at Cottage Grove Speedway and his second straight.
John Campos finished the runner-up, followed by Jesse Williamson. Curtis Towns got fourth while fifth went to Jeffrey Hudson.
Youngster Trevor Points showed the way in the early goings of the Karl Kustoms Northern SportMod feature. He would feel an immense amount of pressure from behind but kept his cool for quite some time.
Dalton Bloom made the pass around Points on lap 14, but it would be negated due to a caution and gave the point back to Points. Unfortunately, the leader exit turn two slightly high on the ensuing restart, handing over the top place position to Ray Bloom.
From Creswell and Dalton's father, Bloom tried his very best to extend his lead over second place, but four yellows put a lot of emphasis on restarts. Fortunately for him, he would master them to maintain the lead and win his first race of 2021 at Cottage Grove Speedway.
Veteran Ron Wilson rallied to a runner-up result, followed by Dalton Bloom. Travis Pruitt and Shawn Hand were fourth and fifth, respectively.
The only division to go non-stop for its main event was the Mach-1 Sport Compacts. Drake dominated the 20-lap affair to win her first race of the season. Drake is the first female driver to succeed in the IMCA Sport Compacts at The Grove.
Brad Martin was second at the line while scored third was Andrew Langan. Burnie Bryant was fourth and Kerry Cooper fifth.
A huge bike giveaway took place at intermission, where some 100 bicycles were given to lucky children courtesy of several race teams and businesses in the community.