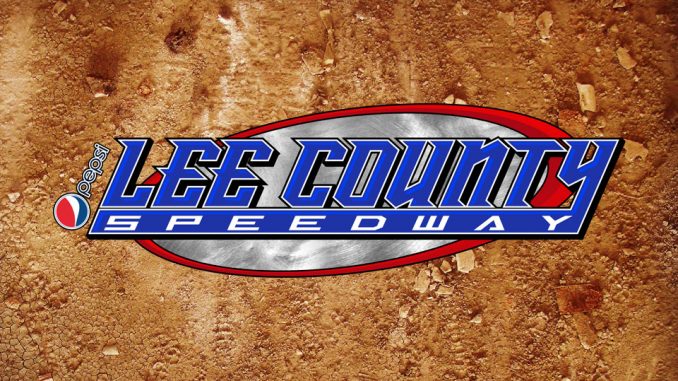 By Brian Neal
DONNELLSON, Iowa (June 4) – Sean Wyett ended another driver's winning streak and started one of his own Friday at Lee County Speedway.
The 18-lap Karl Kustoms Northern SportMod feature had Quinton Shelton and Bob Cowman scheduled to lead the field to green, but when Shelton didn't make the call Joe Roller moved up to the pole position.
Wyett, who originally started fifth, shot out into the lead over Barry Taft and Joe Bliven. Wyett had started to pull away from the field, when a caution on lap six bunched the field back up. On the restart, Wyett jumped back out front with Austen Becerra, who started 11th, Taft and 12th starting Adam Birck glued to his back bumper. 
While Wyett worked the bottom of the track in turns one and two and the top in three and four, Becerra work the top in turns one and two and the bottom in turns three and four to challenge for the lead.
Wyett was able to hold him off each lap, however, and when Becerra got into the guardrail with three laps to go, it allowed Wyett to claim his first win of the season at the track and break Becerra's four-race winning streak. Taft got by Becerra late to finish second.
Coming off turn four to the checkered flag, John Oliver Jr. got enough momentum to edge out Abe Huls at the line for his second local IMCA Sunoco Stock Car win of the season. Jason McDaniel was third.
After working his way from eighth to contend for the IMCA Modified feature win, Michael Long made some daring moves to go from fourth to second on lap 15, and then coming to the white flag used the top of the track coming off turn two to grab the lead from Jesse Belez. Long then held on for his third win of the season at the speedway. Belez settled for second and Jeff Waterman was third.
The final feature was the Mach-1 Sport Compact main, with Chevy Barnes and Dyllan Bonk leading the field to green. Bonk led lap one over Brandon Reu, who started fifth, and Josh Barnes, who started 10th.
They raced three-wide for the top spot on lap three, with Barnes emerging with the lead. Barnes then looked like he would be heading for his first win of the season before pulling into the infield on lap 10 with mechanical troubles.
This handed the lead over to Reu, who went on to win his third of the season at the track. Bonk finished a career best second and Chuck Fullenkamp finished third.
Coming up next Friday, June 11 will be the third round of the Iowa Corn Growers Association and Hinkle Auto Sales Drive For 5.