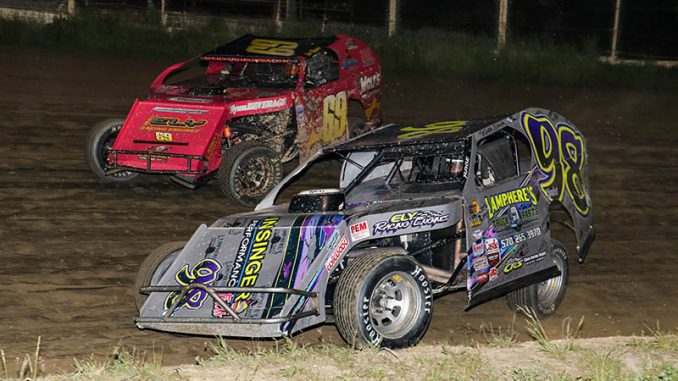 By Evan Canfield
MONROETON, Pa. (June 4) – Getting to The Hill Speedway for Keith Jack Lamphere is not a difficult task. From his front yard, you can see the track lights on any given Friday night.
Making it to The Hill Speedway victory lane on June 4 for round two of the NY-Penn IMCA Modified Series season was a different story, however.
On a beautiful night in the Pennsylvania mountains that saw 19 cars take the green flag, getting to the checkered flag without incident was the name of the game and Lamphere led the last 14 laps in taking the checkers.
Pole starter Brad Sites soared to the early lead ahead of Shawn Bruce. The challenger fell off the pace before a lap eight caution, when Sites' brother Eddie moved up to contend.
The two would ran nose to tail until lap 14 when a spinning lapped car collected both Sites cars, sending them to the rear of the field and handing the lead over to Shawn Bruce, who continued to run up front despite a deflating tire.
Bruce's lead proved short lived. Just after completing lap 15, he went around in turn one and collected Jake Maynard, who had worked his way up to second.
With the top two again relegated to the back of the field, the lead was inherited by Rodney Morgan. Morgan tried to drive away, but charging from the 10th starting position, defending track champion Lamphere power by on lap 17 to take the lead.
Slowly, laps ticked off as the yellow flag ease the pace multiple times. While Lamphere continued to lead, his father Keith made his way back up to second after a lap one spin.
While trying to make a challenge against the younger Lamphere, the yellow flag kept him from making a move. On a lap 25 restart, his progress was halted after heavy contact with Randall Paxton, ending the night for both drivers.
Once racing resumed, a caution on lap 28 for debris was the only thing to slow Keith Jack Lamphere as he set sail and claimed his first NY-Penn IMCA Modified Series victory.
Following him across the finish line would be Ray McClure and hard charger Sonny Terry. Brad Sites and Gary Lamphere completed the top five.
The next race for the NY Penn IMCA Modified Series will be July 2 back at The Hill Speedway for the Billy Maynard Memorial. Details for this event will be released in the coming weeks.
Feature results – 1. Keith Jack Lamphere; 2. Ray McClure; 3. Sonny Terry; 4. Brad Sites; 5. Gary Lamphere; 6. Jake Maynard; 7. J.W. Lamphere; 8. Tyler Stoddard; 9. Aaron Benjamin; 10. Rodney Morgan; 11. Rick Watt; 12. Matt Benjamin; 13. David Scouten Jr.; 14. Lance Conley; 15. Shawn Bruce; 16. Eddie Sites; 17. Randall Paxton; 18. Keith Lamphere