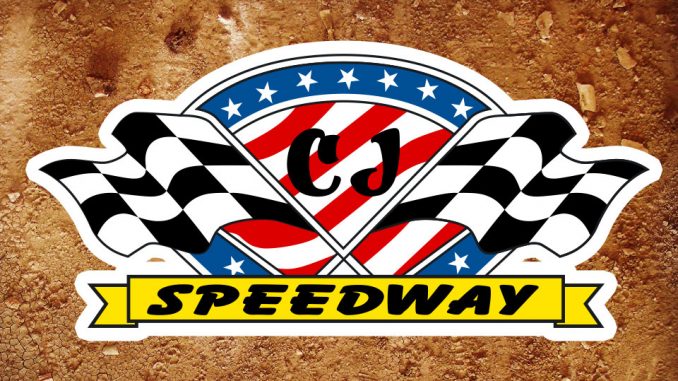 By Jerry Mackey
COLUMBUS JUNCTION, Iowa (June 4) – After a three-week hiatus due to wet weather, racing finally resumed at CJ Speedway.
The headliner of the night was the 20-lap IMCA Sunoco Stock Car feature, which saw 18 drivers take the initial green flag. The race was paced early by Stan O'Brian, who held the field at bay until three laps to go when Dustin Griffiths was able to make a move in turn three for the lead using the high line.
Griffiths raced to the checkers ahead of O'Brian and defending track champion Adam Bell. 
The IMCA Modified feature produced a very popular win for CJ regular Dan "Stumpy" Brockert. Last year, Brockert raced in the SportMod class and the season produced one win. The move up into the Modified class has been a good one for Brockert as he has a win under his belt in the early part of the season.
Brockert ran out front the entire race but was pressured late in the race by Jarrett Brown. Brown had actually taken the lead on a late-race restart but the start was waved off following a caution. Brockert held on to score the win ahead of Brown and Kurt Kile.
The Karl Kustoms Northern SportMod feature saw a field of 24 drivers take the green. Blaine Webster led early before being overtaken by Dylan VanWyk, who had started 12th. VanWyk used several sliders on his way to the front in scoring the win over Webster and Colton Livezy.
Jake Benischek drove to the 12-lap Mach-1 Sport Compact feature win, topping an 18-car field. Benischek advanced from the fourth row very quickly and snared the lead from early leader Cody Staley. Benischek cruised to comfortable win ahead of Christian Grady and Staley.
CJ Speedway is home to one of the national point contenders in the IMCA Sunoco Hobby Stock division as Daniel Wauters scored another win. Wauters raced to the front from a fifth row start and took the lead late in the race and took the win ahead of Seth Dickey and Jake Benischek.
Racing will continue Friday, June 11 with hot laps scheduled at 7:15 p.m.