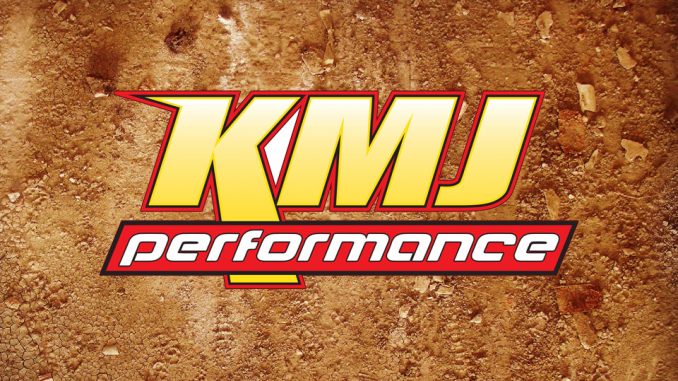 STORY CITY, Iowa (June 2) – KMJ Performance continues in year two as the title sponsor of the IMCA State Champions program, and battles are heating up in each state. 
As part of their sponsorship, KMJ has pledged one of three options to each state champion in the IMCA Late Model, Sprint Car, Modified, Stock Car, Hobby Stock, Northern SportMod, Southern SportMod, Sport Compact and Mod Lite divisions. Drivers may receive either $200 off any Zero-1 4-shock package, $250 off any Victory or Assault chassis purchase, or $50 off any KMJ parts purchase.
With the official beginning of summer marked by Memorial Day, the current KMJ Performance State point leaders in the nine divisions are:
Arizona – Chaz Baca, Modified; D.J. Werkmeister, Stock Car; Steve Bitting, Hobby Stock; Collin Bender, Mod Lite; Bo Partain, Northern SportMod; Josh Werkmeister, Sport Compact.
Arkansas – Keaton Atkinson, Modified; Edwin Wells, Stock Car; Titan Crump, Mod Lite.
California – Jim Pettit, Modified; Ryan Delisle, Sprint Car; Renn Bane, Stock Car; Tim Varney, Mod Lite; Trevor Clymens, Northern SportMod; Andrew Schmitz, Sport Compact.
Colorado – Brian Cross, Modified; Joe Bellm, Stock Car; Hunter Smith, Hobby Stock; Danny Concelman, Northern SportMod; Tim Ihnen, Southern SportMod; Michael Houchin, Sport Compact.
Florida – Owen Barnhill, Modified; Dylan Dunn, Mod Lite.
Idaho – Jake Donnelly, Modified; Chris Hatch, Northern SportMod.
Illinois – Jeff Larson, Modified; Andy Nezworski, Late Model; Daniel Wauters, Hobby Stock; Jon Padilla, Mod Lite; Jarett Franzen, Northern SportMod.
Indiana – Justin Clark, Sprint Car.
Iowa – Tim Ward, Modified; Logan Duffy, Late Model; Stuart Snyder, Sprint Car; Dallon Murty, Stock Car; Solomon Bennett, Hobby Stock; Josh May, Mod Lite; Tyler Soppe, Northern SportMod; Tyler Fiebelkorn, Sport Compact.
Kansas – Tim Watts, Modified; Jeremy Huish, Sprint Car; Tathan Burkhart, Stock Car; Cody Williams, Hobby Stock; Alex Loveless, Mod Lite; Luke Stallbaumer, Northern SportMod; Ted Trumbo, Sport Compact.
Louisiana – Trey Schmidt, Sprint Car; Kevin Carl, Mod Lite.
Maryland – David Grube, Sprint Car.
Michigan – Austin Wonch, Modified.
Minnesota – Aaron Johnson, Modified; Billy Johnson, Sprint Car; Dan Mackenthun, Stock Car; Brandon Bombardo, Hobby Stock; Jacob Jordan, Northern SportMod; Greg Kohl, Sport Compact.
Mississippi – Blake Wilson, Mod Lite.
Missouri – James Thompson, Modified; Jay Russell, Sprint Car; Brian LaBonte, Stock Car; Dillon Raffurty, Mod Lite; Chris Wright, Northern SportMod.
Montana – Joey Price, Modified; Caleb Burkhart, Sport Compact.
Nebraska – Scott R. Smith, Modified; Kyle Prauner, Late Model; Jason Danley, Sprint Car; Cameron Wilkinson, Stock Car; Jason Wilkinson, Hobby Stock; Scott Naggatz, Mod Lite; Justin Svoboda, Northern SportMod; Jacob Schwab, Sport Compact.
Nevada – Alec Childs, Modified; Marie Curtis, Stock Car; Chris Toth, Northern SportMod; Travis Showe, Sport Compact.
New Jersey – Kevin Nagy, Sprint Car.
New York – Joseph Garafolo, Mod Lite.
North Carolina – Jeff Oliver, Sprint Car.
North Dakota – Isaac Sondrol, Modified; Tye Wilke, Sprint Car; Dalton Flory, Stock Car; Andrew Bertsch, Hobby Stock; Brady Bjella, Northern SportMod; Aiden Wagner, Sport Compact.
Ohio – Justin Clark, Sprint Car.
Oklahoma – Jared Baird, Modified; Joe Bob Lee, Sprint Car; Todd Decker, Stock Car; Matthew Day, Southern SportMod.
Oregon – Curtis Towns, Modified; Douglas Coffman, Northern SportMod; Bradley Martin, Sport Compact.
Pennsylvania – Garrett Bard, Sprint Car.
South Carolina – Jeff Oliver, Sprint Car.
South Dakota – Shane DeMey, Modified; Jared Jansen, Sprint Car; Gregory Taylor, Stock Car; Tony Fetterman, Hobby Stock; Rusty Montagne, Northern SportMod; Conner Brown, Sport Compact.
Texas – Chris Morris, Modified; Marcus Thomas, Sprint Car; Joe O'Bryan, Stock Car; Dawson Fisher, Mod Lite; Jerrett Bransom, Southern SportMod; Steve Riojas, Sport Compact.
Utah – Wyatt Howard, Modified; Beau Hutchison, Stock Car; Haiden Reese, Hobby Stock; Brandon Snow, Northern SportMod.
Virginia – Jerald Harris, Sprint Car.
Washington – Grey Ferrando, Modified.
Wisconsin – Lucas Lamberies, Modified; Travis Van Straten, Stock Car; Dakota Simonsen, Hobby Stock; Jayden Schmidt, Northern SportMod; Matthew Brehmer, Sport Compact.
Wyoming – Bart Taylor, Modified; Dave Taylor, Hobby Stock.