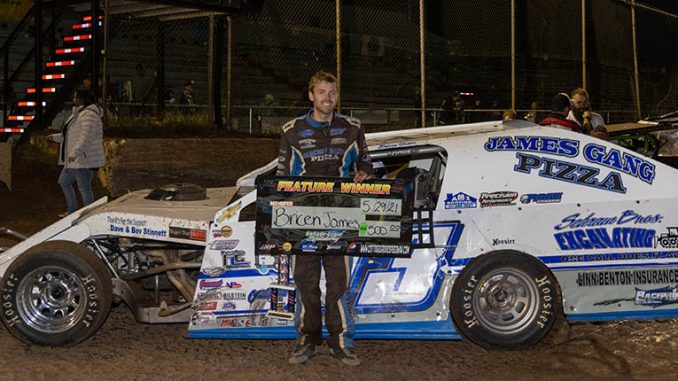 By Stephanie Deatherage  
COTTAGE GROVE, Ore. (May 29) – Bricen James and Dustin Comer were IMCA winners on night one of Cottage Grove Speedway's Memorial Weekend doubleheader.
The 25-lap IMCA Modified main event began with a couple of cautions before the competition could complete the first lap. However, once green flag action unfolded, Jesse Williamson paced the pack. Williamson held on to the position until lap seven.
Bricen James was the man to overtake Williamson and started to pull away from the field. A late-race caution on lap 22 kept the cars all tightly knit together and set up a late-race restart. James then held on to win his second race of the season at CGS and his first since April 23.
John Campos and Curtis Towns were second and third. Jake Mayden ended his night fourth while Grey Ferrando came out of the "B" main as well as an earlier setback from a flat tire to finish fifth.
And in the Karl Kustoms Northern SportMods, Theran Trissell was the initial race leader. Trissell stayed in front until Ray Bloom got around him on lap three. Bloom remained at the point before Travis Pruitt navigated his way around on lap seven.
Pruitt kept his mount in front for a good while but was overtaken on lap 18 shortly after a restart. Comer was the driver to get around Pruitt and stayed there the rest of the way to win his second race of 2021.
The last time Comer had inhabited victory lane was at the season opener on April 3. Doug Coffman ended the night second while Shawn Hand bounced back from an early race incident to get third. Jordan Henry was fourth at the line, followed by deep-starting Mike DeSilva.