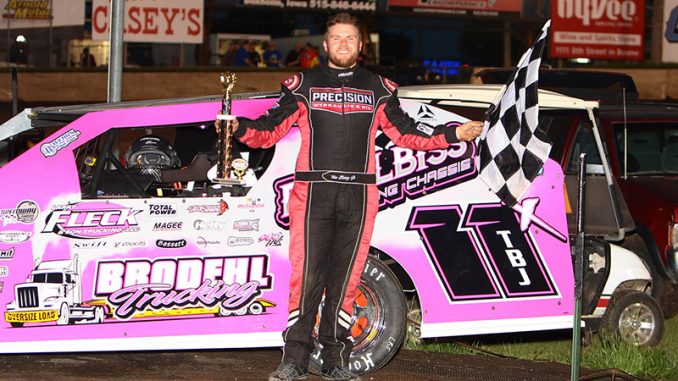 By Joyce Eisele
BOONE, Iowa (May 22) – It was another weekly racing series night Saturday at the Boone Speedway, with 146 cars checking into the pits.
The defending IMCA Modified national champion, Tom Berry Jr., was in the house tonight, wheeling a brand new car. He hadn't lost a step from his successful season last year either, as he sailed home to an­other win. He had to fight around early race leader Russ Dickerson, taking command just before the half­way mark of the event, and then distanced himself from the pack as the checkers flew.
It was a hard fought battle behind Berry, with Nick Roberts taking second over 14th place starter Cory Sauerman, Joel Bushore and Dickerson.
Devin Smith put another notch on his winner's belt by taking the checkers in the 20-lap IMCA Sunoco Stock Car main. The early leader was Troy Jerovetz but the eighth starting Smith was up to challenge with just a handful of laps in the books.
Three laps later, Smith took command, set sail like a rocket on top of the track and was gone. He scored a comfortable win on second place Jerovetz, while brother Donavon Smith came home in third place. Last week's winner Michael Jaennette started 11th and finished fourth and Anthony Goldsberry was fifth.
This was Devin Smith's third regular season win of 2021, plus winning the April 3 Frostbuster.
Twenty-one IMCA STARS Mod Lites were up for feature racing. This one turned into a runaway when last week's winner Cody Yaw took over the lead on lap three and never looked back on his way to another feature win. Mike Kennedy started ninth and finished as the runner-up. Third went to early leader Tim Glick, Doug Byers ran up front all race long and finished fourth, and Josh May was fifth.
The Karl Kustoms Northern SportMod main event ended it with a last-second winner out of turn four. Nic Runyan and Dusty Masolini dueled it out in the first eight laps, with Masolini finally getting the upper hand. A dozen laps into the contest, it was Masolini fending off Ryan King and 10th place starter Izac Mallicoat.
The final laps found Mallicoat getting into the runner-up spot and closing in on the leader. As the white flag flew, Masolini was hoping for the checkers but a slide up the track coming out of turn four looking at the checkers was just enough for Mallicoat to breeze under him and take the thrilling win. Masolini had to settle for second, Johnathon Logue, last week's winner came from 12th to finish third, fourth went to Ryan King and Jenae Gustin started 11th and finished fifth.
Eric Stanton made his way to victory lane after taking the checkers in the IMCA Sunoco Hobby Stock fea­ture. Stanton came from eleventh starting and ran down early leaders Shaun Wirtz and Carter Koop at lap nine to take the lead.
A late caution changed things up when Koop lost a wheel, bringing out a yellow, and putting him out of the running. On the restart, Stanton was taken by surprise when a couple of drivers lurking in the wings, Braden Richards and Wayne Gifford, both flew around him.
Stanton maintained his composure and grabbed back the lead with two laps remaining, keeping it to the checkers and the win. Gifford took the runner-up spot, Richards went third, Solomon Bennett was hard charger, coming from 18th to finish fourth, and Wirtz rounded out the top five.