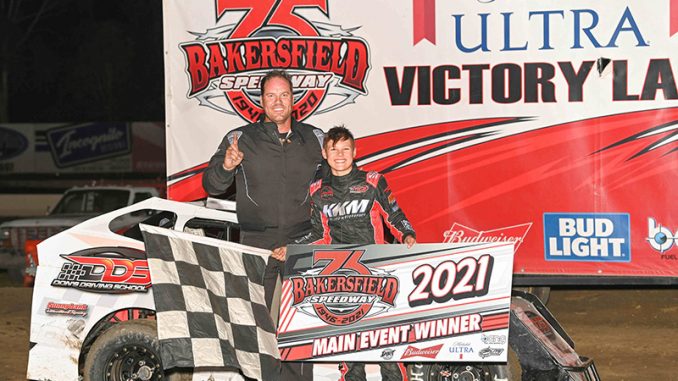 BAKERSFIELD, Calif. – When Cade Lewis won his career-first IMCA STARS Mod Lite feature, his father Colby enjoyed seeing the checkers fly from one of the best seats in the house … behind him on the track at Bakersfield Speedway.
Cade, just 14 but already a 10-year racing veteran, topped the May 8 main event at Bakersfield. Colby, a former Major League pitcher with considerably more experience on the mound than on the dirt, was more than happy to end the night with a mid-pack finish.
"It was pretty cool. This win proves I've come a long way and am still on the path to go up," said Cade, who graduates this week from the eighth grade at St. John's Lutheran School in Bakersfield. "It meant a lot for me to win and it meant a lot for my dad to be there with me in victory lane. He supports me in what I do and it's cool to beat him on the track."
He's progressed from go-karts and will see much of the country this summer racing as part of the Keith Kunz Motorsports team.
Cade is the nephew of former national champion Zack Forster and has made the most of his opportunities learning about racing in general, and the Mod Lite division in particular, from him.
"Learning is the biggest step in racing and being a driver in general. It's been hard sometimes but I've been able to learn a lot from him (Forster)," he explained. "I really like racing Mod Lites. I like how they handle. It's a fun class."
Now a special assistant for the Texas Rangers working with minor league affiliates, the senior Lewis races to enjoy the sport and his son's success.
"There are different forms of adrenaline. Pitching in the World Series (and winning Game 3 of the 2010 Fall Classic) is different than getting in the seat of a race car and that's not something I expect to be good at," Colby said. "I'm not supposed to be good at it like my brother and Cade are. For me, it's having fun and enjoying it."
"I don't care if I finish eighth or ninth. I like going out there, having fun, then having a couple cold ones and bench racing with the guys."
Cade's success, and the family time that comes with the sport, are what he's enjoying most.
"After his first win, Cade might have gone to bed and fallen asleep with the trophy in his hand," Colby said. "I think it's cool that he's chasing his dreams."