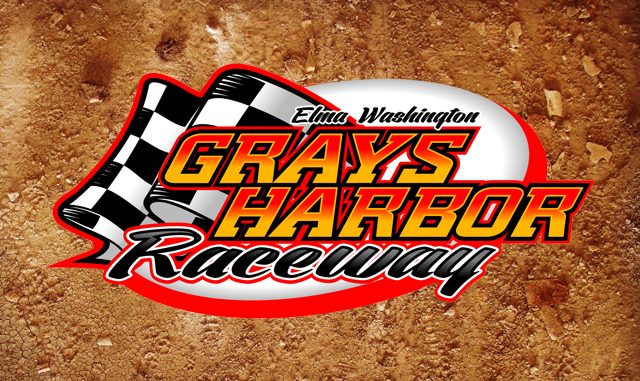 By Stephanie Deatherage 
ELMA, Wash. (May 1) – Grey Ferrando collected his second feature win in as many 2021 starts at Grays Harbor Raceway, topping the 24-car field of IMCA Modifieds Saturday night.
Tom Sweatman was the first car to lead the field at the start-finish line. Sweatman held onto the position until lap five when Brenton Schnitzer made the pass. Schnitzer set a rapid pace but had an unfortunate stroke of bad luck when he had a flat left front tire and came to a halt on lap nine. This gave the first place position back to Sweatman.
Sweatman was challenged by Ferrando and Blair Shoemaker before slowing and then coming to a halt on lap 12.
New leader Ferrando was not out of the woods yet as he had to deal with several restarts and cautions. With all the stop-and-go action, Shoemaker tried to challenge Grey but was unable to overtake him.
Ferrando, who started in twelfth, held on to win his second straight main event at GHR and in KMJ Performance Washington State competition.
Shoemaker was second while third place went to Scott Miller. Brenton Schnitzer recovered from an early race setback to end up fourth while the top five was completed by consolation winner Paul Culp.