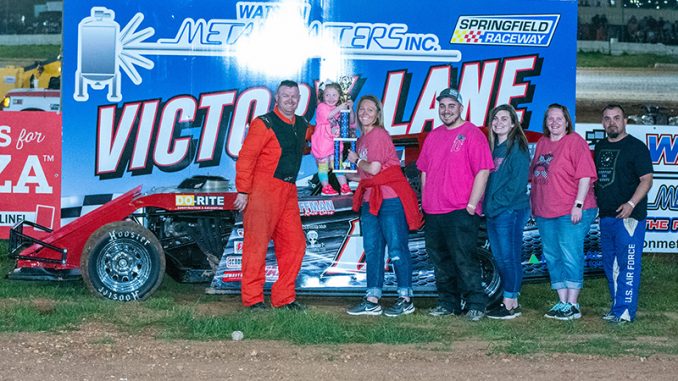 SPRINGFIELD, Mo. – James Thompson came out of a three-wide pack on lap eight and held on to record his second win out of four IMCA Modified features Saturday ight at The Quick Quarter of the Springfield Raceway. 
Thompson, the track champion, came from the eighth starting spot and made the smooth move on leader Jimmy Greenway and second place runner Bobby Pearish, then held back a late surge from Greenway.
Action for the Bad Boy Mower IMCA Modifieds was very intense as Greenway was rolling strong on the top side while Pearish was looking for a chance to get around Greenway.
Greenway, who has been away from circle track racing for several seasons, has been fighting the new car blues and was rolling strong in his Ballie Diesel Automotive number 28.
So far this season it has been Thompson in his Hayden Machinery 11T and two-time winner Steven Bowers Jr. with two wins at Springfield.
IMCA Modified action continues Saturday, May 8 with racing to start at 6:30 p.m.