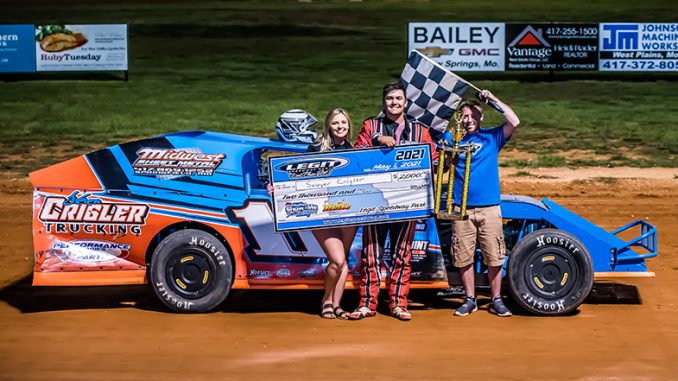 WEST PLAINS, Mo. (May 1) – The longest race of Sawyer Crigler's IMCA Modified career ended as his career-best payday. 
Crigler topped Saturday's 40-lap Show-Me Showdown at Legit Speedway Park, earning $2,000 along with a spot on the Fast Shafts All-Star Invitational ballot.
"There's a lot of history at this place," said Crigler, owner of a paving business and already a two-time winner this season on the dirt at West Plains. "I know there were a lot of good cars here and it feels good to have been able to win this race."
Crigler had started fourth and passed Matt Barry for the lead on the seventh circuit. A handful of cautions kept lapped traffic to a minimum before the last 10 laps ran green. The Alton driver built up a straightaway advantage over second running Powers on his way to taking the checkers.
"The track was slick and smooth," he said. "I like to drive the car straight and that's the way you've got to do it there."
Tony Anglin, Drake Findley and Roger Witt completed the top five.
Crigler had run a 75-lap B-Modified feature "back in the day" and had a number of $1,000 feature wins to his credit before Saturday. He was a spectator for the next race that evening and watched his father Scott win the Super Late Model feature.
Feature results – 1. Sawyer Crigler; 2. Robert Powers; 3. Tony Anglin; 4. Drake Findley; 5. Roger Witt; 6. Ashton Wilkey; 7. Trevor Drake; 8. Casey Findley; 9. Richie Tosh; 10. Chadd Avey; 11. Spencer Hartwick; 12. Brandon Baldridge; 13. Shane Kelley; 14. Justin Rigel; 15. Brint Hartwick; 16. Trever Vandiver; 17. Jay Croney; 18. Shane Gibbons; 19. Matt Barry; 20. Shawn Walsh; 21. John Waugh; 22. Larry House; 23. Landon Clinton.