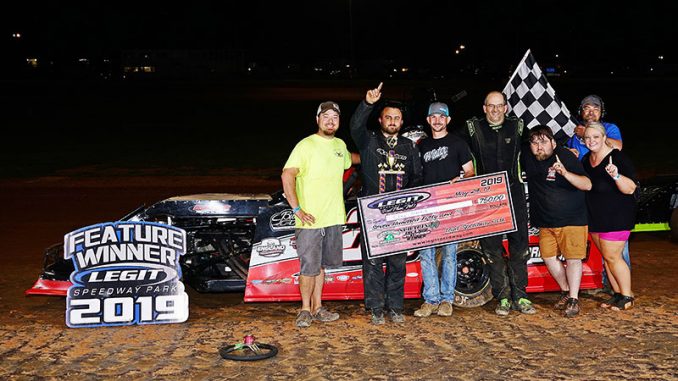 WEST PLAINS, Mo. (May 24-25) – Clay Norris stole the show on opening night of Legit Speedway Park's Scrappin' 40 Weekend. 
Shawn Walsh was the show on night two.
Both were IMCA Modified feature winners at West Plains, with Norris racing from 19th to win the Friday feature and $750 on Friday, and Walsh leading all 40 laps en route to the $1,000, Fast Shafts All-Star Invitational ballot qualifying checkers on Saturday.
After a tough heat race outing, Norris gained his starting spot deep in the Friday field by running second in his 'B' feature.
He made his charge through the pack using the lower line, caught long-time leader Walsh and stayed in front to the finish for his career first sanctioned win. Walsh settled for second.
"We raced with some of the best drivers around and we had a blast," said Norris. "The track was beyond phenomenal."
Mark Norris, Bryce Clark and Ryan Gilmore finished third through fifth, respectively.
There was no catching the veteran Walsh on Saturday. A five-time IMCA track champion at West Plains, he started outside the front row and led green to checkers.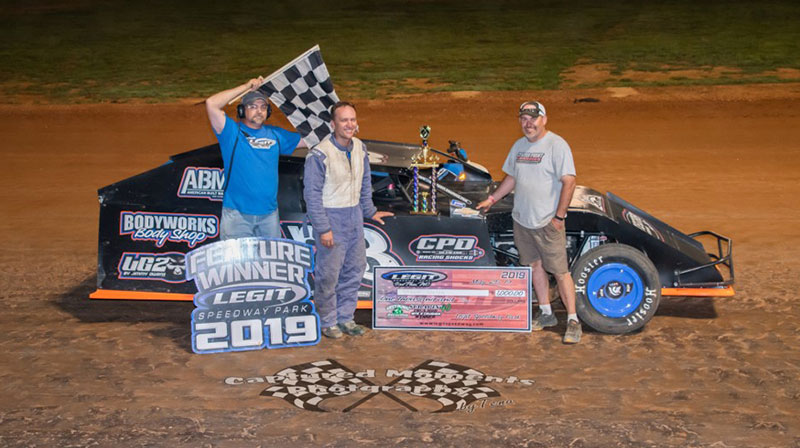 "This was our first weekend out this season," Walsh said following career win number 70 in the division. "We were good for 30 laps on Friday and for all 40 laps on Saturday."
Tyler Vinson, Mark Norris and Keith Hammett were scored next. Clay Norris started 14th and rounded out the top five.
Feature Results
May 24 – 1. Clay Norris; 2. Shawn Walsh; 3. Mark Norris; 4. Bryce Clark; 5. Ryan Gilmore; 6. Joey Gee; 7. Keith Hammett; 8. Tyler Vinson; 9. Carl Murphy; 10. Rick Englesur; 11. Robert Davis; 12. Chris Tonoli; 13. Rusty Jeffrey; 14. Steve Picou; 15. Derek Watson; 16. Ashton Wilkey; 17. Daryl Hay; 18. Shane Gibbons; 19. Mikey Bell; 20. Brad Gholson; 21. Creed Slater; 22. Cam Rank; 23. Madison Holloway; 24. Chad Tilley.
May 25 – 1. Walsh; 2. Vinson; 3. Mark Norris; 4. Hammett; 5. Clay Norris; 6. Clark; 7. Robbie McClain; 8. Bell; 9. Tony Schaberg; 10. Davis; 11. Gee; 12. Wilkey; 13. Jeffrey; 14. Gilmore; 15. Shane Kelley; 16. Chadd Avey, 17. Matt Barry; 18. Slater; 19. Travis Mosley, 20. Picou; 21. Jon Gray; 22. Garry Billings Jr.; 23. Murphy; 24. Tonoli.