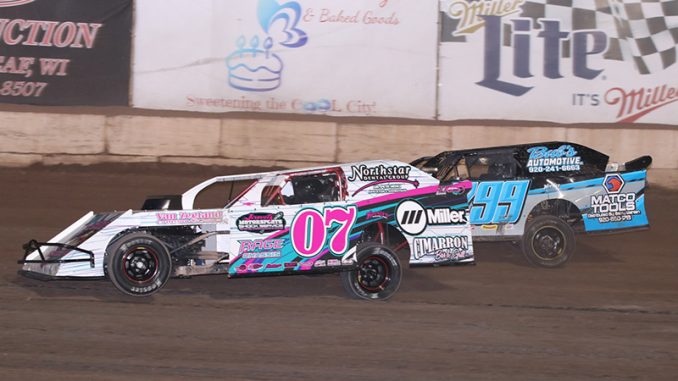 By Greg Aregoni
FRANCIS CREEK, Wis. (May 1) – Randy Markwardt Jr. used his searching skills to find his way to the front and find victory lane at 141 Speedway, as 172 cars signed in for competition Saturday at 141 Speedway.
Jeff Bodendorfer set sail early in the IMCA Modified feature and went on cruise control at the top of the 1/3-mile. Markwardt started in sixth and tried multiple grooves to make his way to the front of the field.
Markwardt finally caught Bodendorfer on lap 11 and pulled away over the remaining laps. Rob Charapata made his way to second but never make a charge. Bodendorfer had a great run in third after leading the first half of the race.
Aaron Stolp had a rough first week and was determined to get back on top. Stolp did just that in a dominating win in the IMCA Sunoco Stock Car feature.
Stolp led until a red flag on lap 14 which involved much of the top 10. Stolp then main­tained his lead over the final six circuits to take home the "W." Logan Rhode raced his way from 14th to garner the runner-up finish over Devin Snellenberger who came from ninth.
Cory Kemkes didn't mind early cautions as he rocketed from his 16th starting spot to the front. Kemkes tracked down early leader Craig Dorner, got up front and quickly moved to catching lapped traffic with Dorner trying to stay with.
Kemkes entered lapped traffic and wiggled his way through like a veteran before taking home the win in front of Dorner. Tim Sheppard finished third after transferring through a "B" main and starting 20th. Gabe Zellner finished fourth and Jamie Iverson finished fifth after starting 21st on the grid.
Next Saturday night, May 8 the IMCA Modifieds will be racing for $1,000 to win and a Fast Shafts All-Star Invitational ballot berth in the Red, White and Blue series.