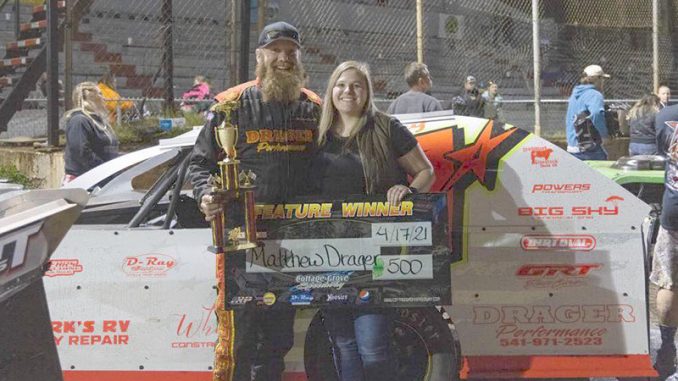 By Ben Deatherage
COTTAGE GROVE, Ore. (April 17) – Cottage Grove Speedway got back to its racing ways on Saturday, April 17 with feature wins going to Matthew Drager in the IMCA Modifieds and Aaron Bloom in the Karl Kustoms Northern SportMods.
The Modified main event was an absolute thriller. Chad Groves got his mount to the early race lead before Drager managed to hunt him down and overtake him at the line on the third complete circuit.
On lap four, Groves went back in front but Drager reclaimed the position on the following lap. However, a caution would be waved before the fifth trip could be officially completed, giving the first place position back to Groves. On the upcoming restart, Drager was able to make it around Groves for the fifth lead change in as many laps. Drager had his hands full with both Groves and Jake Mayden turning up the heat.
A couple yellow flags waved around the halfway mark, which kept the field tightly knit togeth­er. After a lap 14 restart, Groves stormed past Drager which was followed by another yellow flag incident but this time Groves remained the pacesetter.
The next time the green flag waved, Groves got the field back up to speed but went too high, which allowed Drager to nab the top place position on lap 16. Ensuing cautions took out lapped traffic as well as the ability for Drager to construct a large gap over the rest of the field.
In the final three trips around the park, Drager had to not only deal with one but two cars trying to overthrow him from first. When the field came to the checkered flag the outside pole sitter held on to win his first race of the season by a scant eight one hundreth's of a second over Collen Wine­barger. Third went to Curtis Towns.
The Northern Sport Mods had practically a non-stop main event. Despite just one yellow flag, the field witnessed complete dominance by Aaron Bloom, who took full advantage of his front-row starting position and led every single lap.
Aaron's father Ray was scored second with David Schmidt third.
Cottage Grove Speedway returns to racing action Friday, April 23 and Saturday, April 24 for the Spring Fling doubleheader. IMCA Modifieds run both nights, the Karl Kustoms Northern SportMods and Mach-1 Sport Compacts on Saturday.