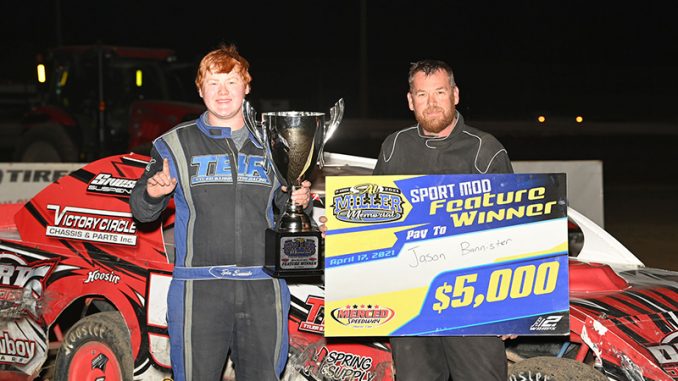 MERCED, Calif. (April 17) – Leader Jason Bannister knew "those fast guys" would be coming as the laps clicked away at Merced Speedway's Al Miller Memorial main event.
Bannister was faster, though, and took home Saturday's $5,000 Karl Kustoms Northern SportMod feature win ahead of Fred Ryland and Tom Fraser.
"It was awesome. To be competitive and win a race like this is really exciting," the Bakersfield hotshoe said. "We hit the setup and we were on a rail. This was my biggest win and the biggest payday of my career."
He'd passed Fraser for the front spot on lap three and Ryland took over the second spot just before a multi-car pileup on the backstretch brought everything to a halt on lap 10.
The race stayed green from that point, with Ryland chasing Bannister in traffic as the 35-lapper wound down.
He cleared two lapped cars and was cutting into Bannister's lead but ran out of laps to catch the leader.
"I knew Fred was back there," said Bannister, the Friday night runner-up. "I'd gotten the lead on the top, then went to the bottom. I was waiting for someone to try to stick their nose by me. I was trying to hit my marks and not mess up."
Nick Spainhoward and Jason Nation rounded out the top five. Kenny Shrader was sixth and Bannister's son Tyler was seventh, racing from 17th starting to earn hard charger honors.
Tyler had won his career-first feature in the division at Merced's Tribute to Jerry Shannon special in late March.
"Tyler being there and us racing together was awesome. Both of us doing as well as we are has been great," Bannister said. "This is a huge event for SportMods and I really wanted to win it. Everybody at the track is great. It was special to be part of this race and I'm really happy I won it."
Fifty-two Northern SportMods from across California, plus Arizona and Nevada saw action over the weekend at Merced.
Kellen Chadwick won the IMCA Modified feature and $2,000 while Ethan Dotson regained the lead coming out of the final turn to take the $1,200 IMCA Sunoco Stock Car checkers.
Raymond Keldsen and Bill Wilker were the early leaders before Chadwick, already a Fast Shafts All-Star Invitational ballot candidate, took charge in the Modified main. The first of three late-race yellows negated Cody Laney's charge to the front and he ended in second.
The 17th starting Dotson, 18th starting Cody Burke and 15th starting Troy Foulger rounded out the top five.
Dotson drew the pole for the Stock Car main and paced the first 17 laps. Jeff Streeter found his way to the front, only to see Dotson fly by in the last sprint to the checkers. Third went to Garrett Corn.
Northern SportMod feature results – 1. Jason Bannister; 2. Fred Ryland; 3. Tom Fraser; 4. Nick Spainhoward; 5. Jason Nation; 6. Kenny Shrader; 7. Tyler Bannister; 8. Andrew Peckham; 9. Chris Falkenberg; 10. Brian Cooper; 11. Joe Antonetti; 12. Austin Manzella; 13. Tyler Rodgers; 14. Randy Miller; 15. Jimmy Ray Huffmon; 16. Michael Black; 17. Jeremy Hoff; 18. Robert Miller; 19. Les Friend; 20. Todd Gomez; 21. Andrew Pearce; 22. Tanner Thomas; 23. Chase Alves.