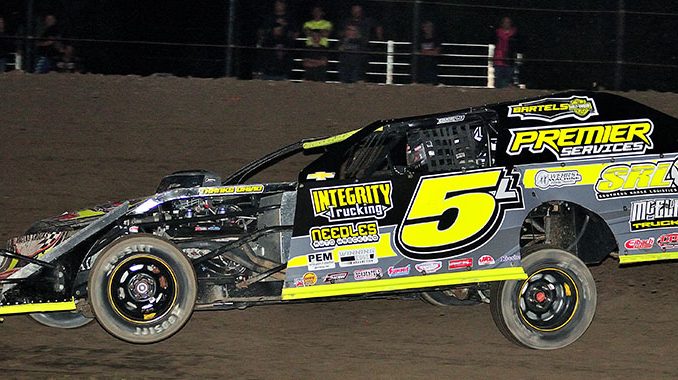 MERCED, Calif. (March 27) – Cody Laney won for the fourth time already this season while Tyler Bannister won for the first time in his brief IMCA career Saturday at Merced Speedway's Tribute to Jerry Shannon season opener. 
Laney started 11th, had the lead before halfway in the IMCA Modified feature and outran Ethan Dotson to the $2,000 checkers. The rookie Bannister started from the pole and swapped the front spot with Fred Ryland before pulling away from a field full of West Coast Karl Kustom Northern SportMod heavyweights.
Thirty-eight Modifieds and 32 SportMods contended at the inaugural event.
Already on the Fast Shafts All-Star Invitational ballot, Laney posted the second fastest qualifying time and won his heat before lining up inside row six for the 30-lap main event. He passed Jim Pettit II and then Kellen Chadwick for the front spot.
"The bottom was the fastest and I knew Kellen wasn't going to move off it," Laney said. "I caught him on the backstretch, rolled around him on top and moved back to the bottom."
Dotson made a charge of his own from 10th to second. Chadwick, Bobby Hogge and Robby Sawyer completed the top five.
"I had a pretty good car," said Laney, noting that the victory was his first this year in his own 2020 Rage. "It was pretty cool to win the first (annual) race for a family I've become close to."
Bannister's first-ever IMCA checkers came in just his sixth Northern SportMod start and paid $750. He'd run mini dwarfs bandoleros, legends and hobby stocks before joining his father Jason in the sanctioned class.
"I trade the lead with Fred (Ryland) and was able to get around him after an early restart. It was real good racing," he said. "A lot of these guys have got tons of starts. To be up there running with them was something. You've got to be up on the wheel racing with those guys."
An early multi-car incident took Jason Bannister out of the running but allowed him to watch Tyler's first Northern SportMod win unfold.
"I knew I had to charge as hard as I could to run with the fast, well-known guys around here," Bannister said.
Trevor Clymens, Tanner Thomas and 17th starting Jason Nation chased Bannister and Ryland across the stripe.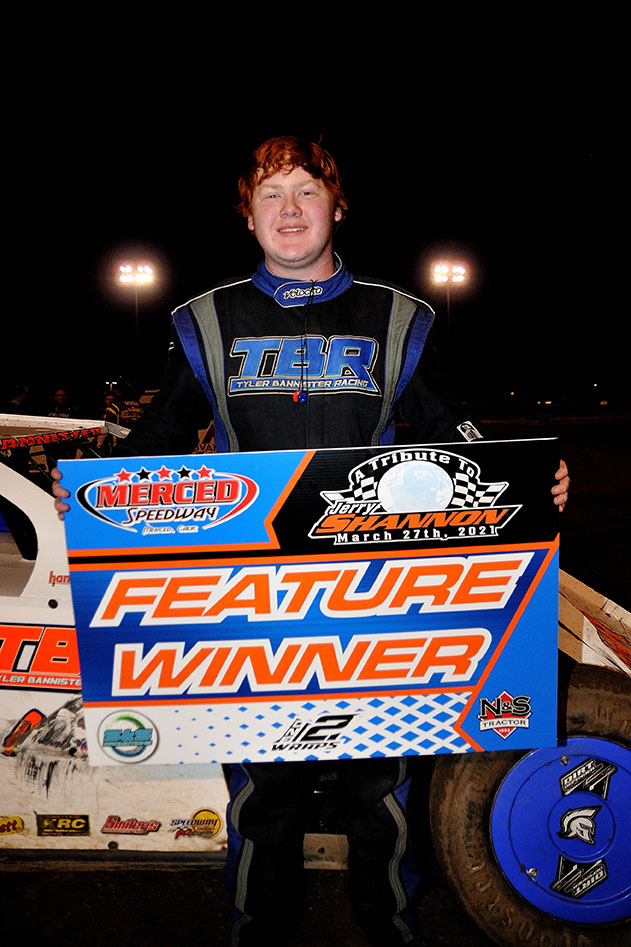 Rookie Tyler Bannister raced to his Karl Kustoms Northern SportMod career-first feature win at Merced Speedway's Tribute to Jerry Shannon show. (Photo by Top Dawg Racing Photos)
Feature Results
Modifieds – 1. Cody Laney; 2. Ethan Dotson; 3. Kellen Chadwick; 4. Bobby Hogge; 5. Robby Sawyer; 6. Troy Foulger; 7. Jim Pettit II; 8. Cody Burke; 9. Michael Scruggs; 10. Trevor Fitz-Gibbon; 11. Rick Diaz; 12. Paul Culp; 13. D.J. Shannon; 14. Paul Stone; 15. Clint Reichenbach; 16. Alex Stanford; 17. Billy Wilker; 18. Rob Sanders; 19. Darrell Hughes; 20. Austin Kiefer.
Northern SportMods – 1. Tyler Bannister; 2. Fred Ryland; 3. Trevor Clymens; 4. Tanner Thomas; 5. Jason Nation; 6. Chuck Weir; 7. Nick Spainhoward; 8. John Piker; 9. Brian Baker; 10. Guy Ahlwardt; 11. Austin Manzella; 12. Darren Thomas; 13. Riley Jeppesen; 14. Austin Pugh; 15. Billy Simkins; 16. Nathan Rolfe; 17. Markus Frazier; 18. Jason Bannister; 19. Robby Claborn; 20. Chae Thomas.