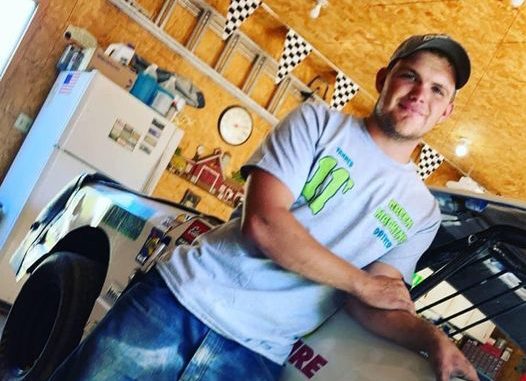 ALBION, Neb. – A life well lived that ended too soon will be celebrated at the biggest event in Boone County Raceway history.
The annual fair race on July 11 doubles as the inaugural Tanner Pelster Memorial, and will remember a young man who always had a smile, a contagious laugh and countless friends.
Just 24, the fourth generation driver from Albion died as a result of a work accident early last month. The son of Boone County promoter Delmer Pelster and wife Dee grew up with four older sisters and at a race track just a few blocks from home.
"We were proud of Tanner. He was special, and a lot of people thought that way," his father said. "He could make anybody smile. Tanner had friends all over the place."
This would have been Tanner's ninth season in IMCA. He started in a Hobby Stock, getting his first feature win at the age of 16, sweeping his heat, the dash and main event during a visit to Stuart before moving into a Stock Car and getting to race with his uncle Randy.
His race-night mementos include the bumper and Ditzy sticker from "the coolest night" he won the feature and Ditzy The Clown was at Albion.
"He ran Hobby Stock in an old junk car for one year before he bought a better one because he did so good, then a Stock Car for four years. He really enjoyed the Stock Car, that was what he liked," Delmer said. "Tanner was a natural from the get-go. He could wheel it. If he'd had a better mechanic, and that was me, he could have won some more races."
"He didn't race for the money. He lived three blocks away from the track and they always had to mail him his check because he never picked it up after the races," Delmer continued. "He truly did it for the love of the sport."
Tanner's sisters Stacey Slaymaker, Kelly Seier, Nicole Borer and Taylor Colson all recalled his love of anything with wheels, which came second to a family that also includes 10 nieces and nephews. Now in a perfect place, they'll remember him as a true guardian angel.
"Tanner was kind of our glue. He was the mischievous younger brother we protected from what he couldn't get away with," Kelly said. "Every night he raced was fun for us. He always went too high. We told him to stay out of the rhubarb but he did it anyway."
A plaque will be put up in Tanner's pit stall at Albion, which will remain empty on race night this season. Complete with a new body courtesy of Big Daddy Race Cars, Performance Bodies and Roth Racing and a memorial wrap from Twisted Images, his 11T ride will serve as pace car for the fair night special.
Ernie's Body Shop installed the body as Dale Bittner, Ryan Fajman, Jeremy Hoskinson, Kyle Prauner, Scott Angell, Dusty Poessnecker and Rachel Poessnecker are getting Tanner's car ready for the night in his honor.
"This is going to be the biggest race Boone County has ever seen," promised Delmer, who will ride in the pace car with Dee. "We probably have $10,000 in donations now and that money will be paid out through the field. It's been unbelievable."
Stock Cars race for $1,111 to win and $211 to start the main event that night, with $111 in tow money. Hobby Stocks race for $511 to win.
While winning either feature will be a career kind of accomplishment, the Pelster family hopes Tanner's life can encourage others to accomplish great things on and off the track.
"We still have Tanner's phone set to ring every morning about six, with a different Bible verse and sobriety quote," Delmer said, noting a more important effort his son had been winning the past two months. "Racing changes you. It teaches you a lot of life lessons. I hope Tanner can inspire someone else."