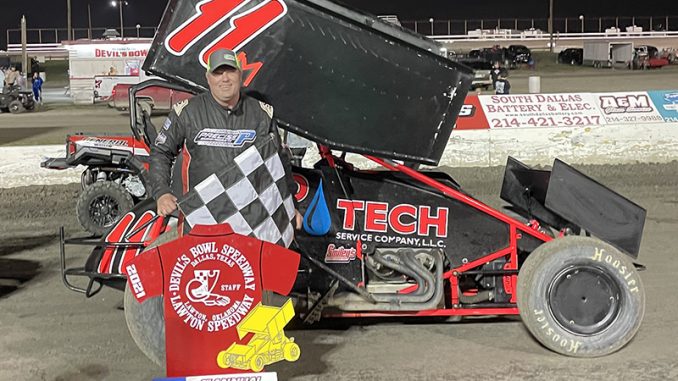 By Ben Deatherage  
MESQUITE, Texas (March 12-13) – Kevin Ramey added to an already impressive IMCA RaceSaver Sprint Car resume Saturday night.
Ramey led all 30 laps of the Texas 305 RaceSaver Sprint Nationals main event, earning the $2,000 victory at home track Devil's Bowl Speedway.
"Being's as this was the first one and on my home turf, this was pretty special. There were tons of really good racers from all over here this weekend," he said. "This is my home track so it was special to win here."
The Fort Worth flyer, IMCA's national, RaceSaver Nationals and Devil's Bowl champion in 2018, started outside Friday winner Martin Edwards on the front row. He took the lead coming out of the final turn on lap one and began to take off from the rest of the pack
The second and final caution of the contest came on lap nine, with the race ending with a long green flag run. Zach Blurton stayed close to midway, then fell a couple lapped cars off the pace and ended in second.
Marcus Thomas, Dalton Stevens and Tyler Drueke completed the top five. Forty-plus entries from eight states ran both nights.
"We had a pretty good night. The track was really fast," said Ramey, the winningest driver at Devil's Bowl. "It was pretty cool."
Edwards went home with a $1,000 share of the purse and Drueke was the opening night runner-up; Ramey started 16th and was scored third on Friday.
Feature Results
March 12 – 1. Martin Edwards; 2. Tyler Drueke; 3. Kevin Ramey; 4. Dalton Stevens; 5. Justin Fifield; 6. Zach Blurton; 7. Colby Stubblefield; 8. Justin Zimmerman; 9. Jason Martin; 10. Raven Culp; 11. Chip Graham; 12. Marcus Thomas; 13. Casey Burkham; 14. Taylor Courtney; 15. Blake Scott; 16. Cody Price; 17. Toby Chapman; 18. Brenham Crouch; 19. Kyler Johnson; 20. Jesse Lindberg; 21. Joseph Kasper; 22. Michael Colaluca; 23. Steve McMackin.
March 13 – 1. Ramey; 2. Blurton; 3. Thomas; 4. Stevens; 5. Drueke; 6. Fifield; 7. Martin; 8. Culp; 9. Preston Peebles II; 10. Austin Mundie; 11. Courtney; 12. Austin Sanders; 13. Graham; 14. Scott; 15. Shane Sundquist; 16. Edwards; 17. Robert Vetter; 18. Daniel Nekolite; 19. Logan Scherb; 20. Crouch; 21. Price; 22. John Ricketts; 23. Burkham; 24. Larry Long.