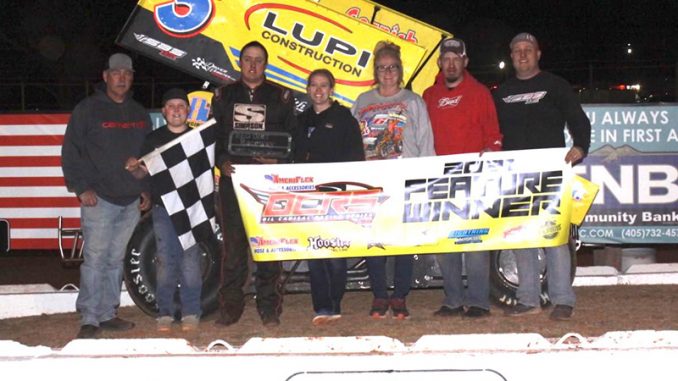 By John Rittenoure 
MEEKER, Okla. (March 7) – It has been a long time in coming for Joe Bob Lee.
One of the most loyal followers of the AmeriFlex/Oil Capital Racing Series for IMCA RaceSaver Sprint Cars, Lee has spent the past four years traveling to each race on the OCRS schedule from his home in the far southwest Oklahoma town of Cache hoping to pick up a main event win.
Sunday, it finally happened. Lee took over the lead just a few laps before the halfway point in the 30-lap feature of Spring Nationals at Red Dirt Raceway and raced unchallenged for his first career series victory.
"It is going on four years straight I have been running with the series," Lee said, thinking back to when he started running with OCRS. "It is finally good to get the monkey off my shoulders."
Lee credited the work of his family, crew and sponsors for his success.
"We have had a lot of top 5 and top 10's. A lot of good runs," Lee recalled. "It all starts in the shop. I have good crew behind me and my family. I have good sponsors behind me with AmeriFlex, Lupe Construction, Davis Air Conditioning, Lawton Auto Parts and all the major players that make this happen."
When the green flag dropped on the 2021 season's second show, Tanner Conn raced into the lead using the high groove while Lee committed to the low groove in the runner-up position. Lee stayed with his groove choice and caught Conn just a few laps before halfway and drove into the lead.
The car setup for the feature was aided by what Lee learned before the race.
"My nephew raced earlier in restrictors and we got looking at his tires," Lee said. "We noticed they started taking rubber and that is what we set up for. It worked out for the good."
The win was a complete turnaround from Saturday where Lee ran 12th in the second B main.
"Last night we struggled and did not make the show," Lee said. "We ran the "B'. I had some trouble there. Tonight was a 180 degree flip."
Conn continued chasing Lee until lap 20 when he came to a stop on the track to bring out a yellow flag. On the restart Terry Easum moved into second until the red waved for Andrew Deal who got upside down in turn two.
Another yellow waved on the restart for Austin Saunders who spun in turn three. The next restart was not good for Easum who gave up second to Jason Martin on lap 23. Martin was not able to close on Lee and finished second. Whit Gastineau came from ninth starting to finish third, dropping Easum to fourth. Casey Wills finished fifth.
Tyler Drueke of Eagle, Nebraska was the hard charger of the night coming from 18th to finish seventh behind sixth place and Saturday winner Johnny Kent.
Feature results – 1. Joe Bob Lee; 2. Jason Martin; 3. Whit Gastineau; 4. Terry Easum; 5. Casey Wills; 6. Johnny Kent; 7. Tyler Drueke; 8. Danny Wood; 9. Tim Kent; 10. Joshua Tyre; 11. Austin Saunders; 12. Zach Chappell; 13. Alison Slaton; 14. Rees Moran; 15. Tanner Conn; 16. Andrew Deal; 17. Ty Hanten; 18. Chris Kelly; 19. Zach Blurto; 20. Brandon Jennings.