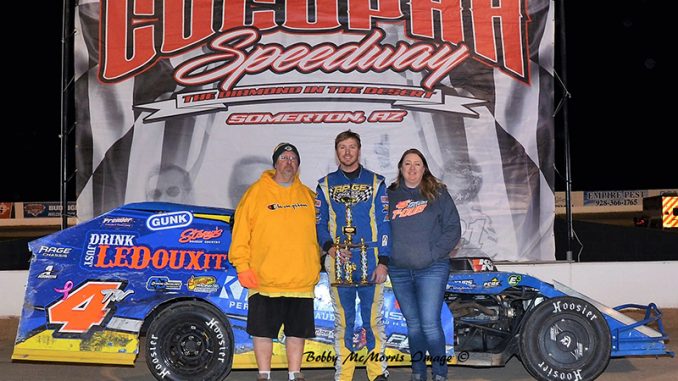 By Ben Deatherage
SOMERTON, Ariz. (Feb. 20) – Once more three Speedway Motors IMCA Weekly Racing sanc­tioned classes were in competition at Cocopah Speedway on Saturday. IMCA Modifieds, Karl Kustoms Northern Sport Mods, and IMCA STARS Mod Lites complimented the card of the final night of the Western States Dwarf Car Nationals at the ⅜-mile track.
For the IMCA Modified main event, Marvin Mueller got the front on the drop of the initial green flag. He did his best to keep his car ahead of the competition but would be overtaken on lap three by Jerry Flippo.
Flippo steered his vessel ahead of the rest of the pack but was eventually caught. Arizona native Tim Ward overtook Jerry Flippo on lap 14. Ward was by no means out of the woods as he had to deal with some thick lapped traffic and pressure from Flippo.
The seventh starting Ward held on to capture his first win of the 2021 campaign in the caution-free affair, earning $1,000 and a spot on the Fast Shafts All-Star Invitational ballot.
Flippo ended the night second with Chaz Baca in third.
In the Northern SportMod feature, Markus Frazier showed the way for much of the race. Frazier faced a barrage of opponents at which point was up to three drivers looking to overtake him. Fra­zier lost the top spot around lap 15 to Daniel West.
Just two cautions slowed the field down and took out the factor of lapped traffic in the closing stages. West again had to hold back some contenders but ended the evening atop the rest of the field for his first win of the year.
Chris Toth rallied to second after spinning earlier while third was Miles Morris.
In the IMCA STARS Mod Lites, Richard Kemp took control of the front of the field on the initial start. Cade Lewis was quick to get around him and lead the pack for the second circuit.
With just two laps to go, Zack Forster overtook his nephew, Lewis, to gain the point, then held on to win for the second time in as many nights at Cocopah.
Kaden Cochrun made a late pass for second with Lewis settling in third.