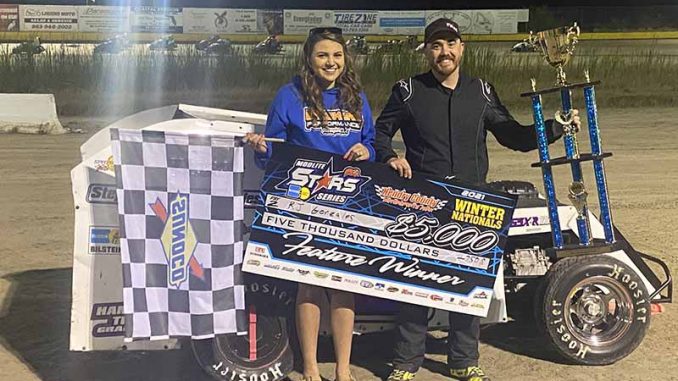 CLEWISTON, Fla. (Feb. 13) – A last-minute decision led to the biggest win of R.J. Gonzales' career.
Gonzales swept the IMCA STARS Mod Lite Sugar Bowl Winter Nationals weekend at Hendry County Motorsports Park, pocketing $850 on Friday and then outrunning everybody for the big $5,750 checkers on Saturday evening.
"That was the biggest win of my career right there," the Colona, Ill., driver said following his first-ever visit to the Florida oval. "It took a while for it to set in that I'd done it. We started driving home Sunday morning and probably talked about it for the first two hours."
Gonzales started the weekend at Clewiston with a second place showing in Thursday's race of champions. He led the last 10 laps in winning on Friday, then drew the pole and led all 30 laps of the Saturday main event.
"We ran really good in the feature on Friday night so I put the exact same setup on Saturday," he said. "We had a late restart and Austin Martin was right there. I could hear him. I was trying to stay on the bottom and luckily I held him off."
Gonzales' purse shares included a $100 bonus from Joker Chassis on Friday and $250 bonuses from Yoshimura and RB Motorsports on Saturday.
Mitch Ward and Jimmy Smith rounded out the Friday top three. Martin and Smith chased Gonzales to the checkers on Saturday and pocketed Yoshimura bonuses for $150 and $100, respectively.
"It was kind of a last-minute decision to race. I didn't think I could get time off work," said Gonzales. "I sent the flyer to my wife and she said 'Let's go.' We decided in late January to go. I'm glad we did."
Thirty-five IMCA STARS Mod Lite teams vied at Clewiston. Justin Kinderknecht won the race of champions and ran fourth in both features. Frank Winenski topped Saturday's non-qualifier feature.
Feature Results
Feb. 12 – 1. R.J. Gonzales; 2. Mitch Ward; 3. Jimmy Smith; 4. Justin Kinderknecht; 5. Brian Teeters; 6. Justin Williams; 7. Morgan Johnson; 8. Randy Bryan; 9. Darrick Hubbard Jr.; 10. Ronnie Choate; 11. Cody Benoit; 12. Ronald Throop; 13. Tanner McLoughlin; 14. Darrick Hubbard Jr.; 15. Kyle Demo; 16. Fred Wilson; 17. Kaden Cochran; 18. Jason Masengarb; 19. William Leonard; 20. Bo Bass.
Feb. 13 – 1. Gonzales; 2. Austin Martin; 3. Smith; 4. Kinderknecht; 5. Williams; 6. Darrick Hubbard Jr.; 7. Cochran; 8. Ronnie Choate; 9. Cody Sisson; 10. Reed Garey; 11. Tanner McLoughlin; 12. Steve Throop; 13. Mitch Ward; 14. Mike Kennedy; 15. Johnson; 16. Wilson; 17. Carson Hubbard; 18. Codey Benoit; 19. Larry Hubbard Jr.; 20. Demo; 21. Bass; 22. Leonard; 23. Dylan Dunn; 24. Teeters.