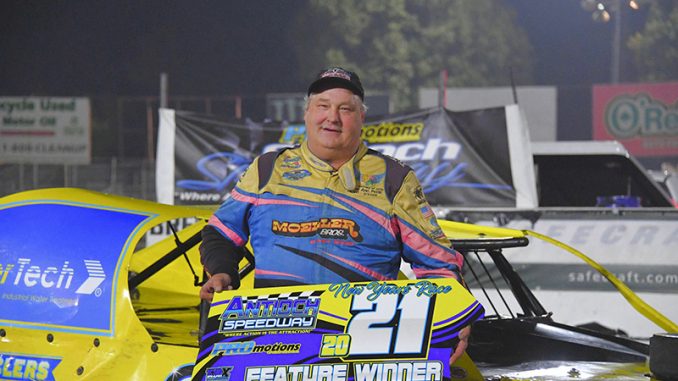 ANTIOCH, Calif. (Jan. 2) – Jim Pettit II came up big in the first IMCA Modified feature of the season Saturday at Antioch Speedway.
Pettit started on the pole and led all 30 laps for the win, holding off a series of challengers for the $1,000, Fast Shafts All-Star Invitational ballot qualifying victory on a perfectly prepared fast, multi-groove oval.
Up to the task following each of three restarts, Pettit led the 17th starting Nick DeCarlo, Troy Foulger, Kellen Chadwick and Bobby Hogge IV to the checkers.
Todd Gomez and Cody Johnson also raced their way to Antioch's victory lane on Saturday, in the Karl Kustoms Northern SportMod and IMCA Sunoco Stock Car main events, respectively.
Trevor Clymens paced the first 14 laps of the 25-lap Northern SportMod feature before Gomez, another local, grabbed the top spot from ninth starting.
His foes swapped spots behind him but none could catch Gomez before the $500 checkers flew. Clymens, Guy Ahlwardt, Adriane Frost and Andrew Pearce completed the top five.
Renn Bane led the first trio of laps after a flip by Rob Gallaher on the opening lap in the Stock Car headliner. Johnson led lap four to the 20-lap conclusion that paid $500. Joe Gallaher, Mike Shearer, Bane and Austin Van Hoff were scored behind Johnson.
Feature Results
Modifieds – 1. Jim Pettit II; 2. Nick DeCarlo; 3. Troy Foulger; 4. Kellen Chadwick; 5. Bobby Hogge IV; 6. Dylan Thornton; 7. Michael Paul Jr.; 8. Buddy Kniss; 9. Jesse Bailey; 10. Bobby Motts; 11. Matthew Hagio; 12. Jeffrey Hudson; 13. T.J. Etchison; 14. Dave Duste Jr.; 15. Jake Dewsbury; 16. Danny Malfatti; 17. Steve Streeter; 18. Carl Berendsen; 19. Mickey Hill; 20. Jeff Browne.
Northern SportMods – 1. Todd Gomez; 2. Trevor Clymens; 3. Guy Ahlwardt; 4. Adriane Frost; 5. Andrew Pearce; 6. Chase Thomas; 7. Todd Clymens; 8. Tommy Clymens; 9. Jacob Mallet Jr.; 10. Mathew Elmore; 11. Scott Savell; 12. Kevin Brown; 13. Gavin Espino; 14. Kodie Dean; 15. Craig Nieman; 16. Dwayne Short; 17. Max Baggett; 18. Hunter Merritt; 19. Buddy Olschawka.
Stock Cars – 1. Cody Johnson; 2. Joe Gallaher; 3. Michael Shearer; 4. Renn Bane; 5. Austin VanHoff; 6. Rob Gallaher.