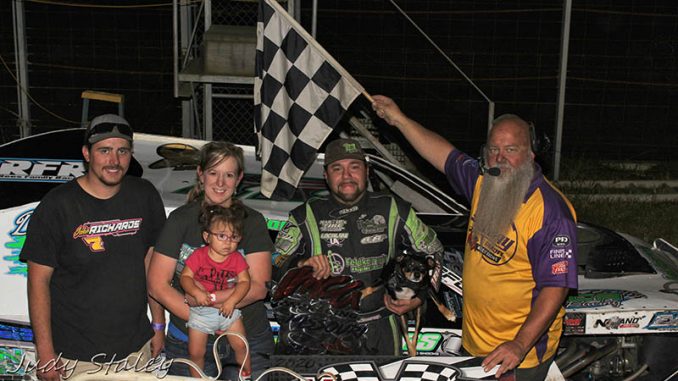 By Jacob Blair 
OSBORN, Mo. (Oct. 10) – The second annual IMCA Missouri Nationals at US 36 Raceway crowned one back-to-back champion and three first-time event winners.
Steven Bowers Jr. repeated as the IMCA Modified winner while Trevor Grossenbacher, Mike Nichols and Adam Vrbka prevailed in IMCA RaceSaver Sprint Car, IMCA Sunoco Stock Car and Karl Kustoms Northern SportMod main events, respectively.
The 30-lap IMCA Modified main event was led early by Josh Munsen before Chad Andersen made the move to the front. Andersen set the pace for the first half of the race. While he controlled the field, however, all eyes were on Bowers as he charged through the field.
After Saturday night trouble, Bowers had to come from 11th starting and methodically worked through the field. At halfway, Andersen began to fade while Bowers continued to find more speed.
Once Bowers got to second, Andersen didn't have much left to fend him off. Bowers took off to dominate the final 10 laps and make the trip to Westfall GMC Victory Lane. The back-to-back wins at the Missouri Nationals was also good for a $2,000 payday for Bowers, already on the Fast Shafts All-Star Invitational ballot
Andersen held on to finish second. Zach Nitsch impressed with a third place finish. Danny Holt and Mark Schafman completed the top five.
Race fans saw a dominating performance from Grossenbacher in the IMCA RaceSaver Sprint Cars as he swept the weekend, leading all 30 laps Saturday night.
Toby Chapman kept him honest and made several attempts at the pass, but never could make the move. Chapman finished second with Stuart Snyder third. Jay Russell had issues Friday which put him deep in the Saturday starting field. He charged from 11th starting to finish fourth. J.R. Topper completed the top five.
After winning on Friday, Nichols brought the broom to Missouri as he led all 25 laps of the caution-free Stock Car event. The biggest concern for Nichols in completing the weekend sweep became heavy lapped traffic late in the race. However, he had enough of a gap and Nichols cruised to his first Missouri Nationals win.
Blake Peeler finished second with a solid run. Chad Clancy finished third, with Randy Smith Jr. in fourth and JJ Baumli in fifth.
Derek Hall paced the opening laps of the Northern SportMod main. Early cautions slowed the race several times, but with a long green flag run Travis Peterson began working on Hall for the lead.
While trying to make a move to the bottom, Adam Vrbka rolled the top and snuck by Peterson. Vrbka liked the high line and used it to make a move around Hall for the lead a few laps later. As the laps wound down, Vrbka continued to open the gap on Hall.
Vrbka remained out front when the checkered flew. Hall finished second with Peterson third. Ben Stockton charged from 12th to finish fourth. Chris Wright moved through the field twice, once from an 11th place starting position and again after involvement in one of the early yellows to finish fifth.
Feature Results
Modifieds – 1. Steven Bowers Jr.; 2. Chad Andersen; 3. Zach Nitsch; 4. Danny Holt; 5. Mark Schafman; 6. Josh Munsen; 7. Randy Herrmann; 8. Josh Adkins; 9. Curtis Dreasher; 10. Jaylen Wettengel; 11. Jayden Bears; 12. Benjie Douglas; 13. Nicholas Carpenter; 14. Jim Masoner Jr.; 15. Blake Peeler; 16. Bill Carter; 17. Brody Sim.
Sprint Cars – 1. Trevor Grossenbacher; 2. Toby Chapman; 3. Stuart Snyder; 4. Jay Russell; 5. J.R. Topper; 6. Jack Potter; 7. Jason Danley[; 8. Kenny Potter; 9. Ryan Navratil; 10. Chris Couch; 11. Austin Couch; 12. Jake Greenwood; 13. Kevin Frisbie; 14. Joel Thorpe.
Stock Cars – 1. Mike Nichols; 2. Blake Peeler; 3. Chad Clancy; 4. Randy Smith Jr.; 5. JJ Baumli; 6. Brian Labonte; 7. Matt Smith; 8. Carson Masoner; 9. Nate Barnes; 10. Eddie Ingram; 11. Brad Whitney; 12. Brad Labonte; 13. Connor Masoner; 14. Christine Holt; 15. Anthony Whitham; 16. Gerald Wahwahsuck; 17. Joe Abrams; 18. Mich Ross; 19. Jesse Perez.
Northern SportMod – 1. Adam Vrbka; 2. Derek Hall; 3. Travis Peterson; 4. Ben Stockton; 5. Chris Wright; 6. Truman Asher; 7. Austin Charles; 8. Blain Petersen; 9. Steven Clancy; 10. Brad Whitney; 11. Chad Shaw; 12. Justin Asher; 13. Trevor Dunn; 14. Clayton Stutesmun; 15. Jena Baumli; 16. Josh Boyd; 17. Kyle Russell; 18. Mike Nichols; 19. Dakota Girard; 20. Tom Charles; 21. Coleman Browning.