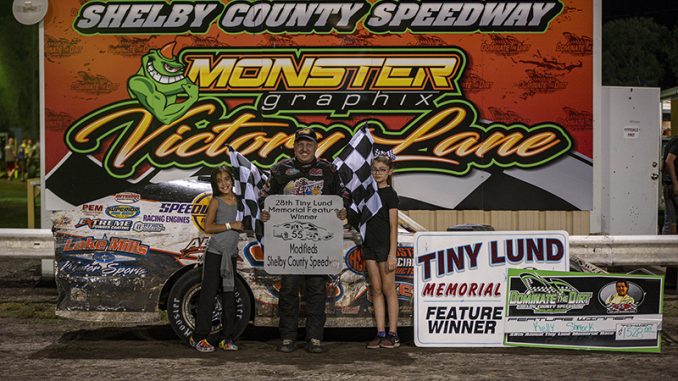 HARLAN, Iowa (Sept. 25-26) – Kelly Shryock's Saturday IMCA Modified win was his first ever at Shelby County Speedway's Tiny Lund Memorial. Dusty Van Horn's IMCA Sunoco Stock Car win the same night was his first-ever in the division.
Shryock, already on the Fast Shafts All-Star Invitational ballot, started on the pole, then had to get the lead back from Jacob Hobscheidt before collecting the $1,528 checkers.
"He's "He's pretty fast. Lucky for me and unlucky for him, a lapped car kind of got him out of shape," Shryock said.
Anthony Roth ended in second, Chris Mills in third.
While Shryock has won his share and then some of IMCA's biggest events, races like the Tiny Lund stand out.
"It's really cool to add my list to the names of the drivers who have won this event," he said. "The Tiny Lund is a huge event and any time you can win a memorial race it's special. Memorial races have a special place in my heart."
Van Horn shared similar sentiments, after a late-race pass of Mike Nichols and Tom Berry that put him in victory lane at his home track.
"It was unbelievable. My youngest son was crying when I looked over, my wife was crying and my oldest son had a tear in his eye," he said. "They know how hard I've worked for this. I really don't know how to describe it. I was pumped and I was ecstatic."
Van Horn ran an IMCA Sunoco Hobby Stock before moving to the Stock Car division in 2015 and has raced regularly with Nichols ever since.
"I hate to think how many seconds I've had to Mike," Van Horn said after parking his 2020 Victory in the winner's circle. "I've ran and raced with him for five years and to boot I didn't know Tom Berry was running a Stock Car, too. I was in the same heat race with him and didn't know who it was, just that they were fast."
Van Horn had most lately been runner-up to Nichols in the Friday feature at Harlan.
"It feels like all year long I've been close to winning one," he said, thanking family, friends and sponsors for their continued support following the $1,028 checkers. "I talked to Randy Havlik and he had told me you don't have to be in the lead but you have to be there to win. To be able to pass those two to win was incredible."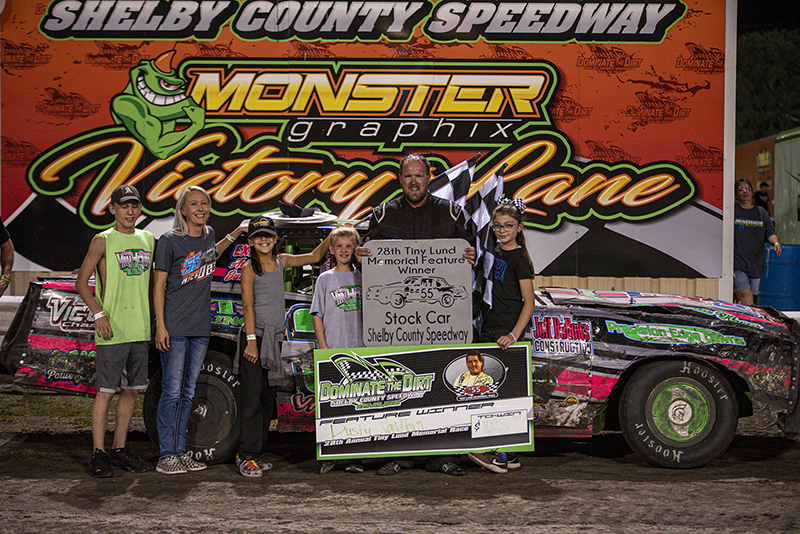 Dusty Van Horn's career-first IMCA Sunoco Stock Car win came on night two of the Tiny Lund Memorial at home track Shelby County Speedway. (Photo by Jim Steffens)
Other Saturday winners were Ryan Griffith in the IMCA Sunoco Late Models, Alec Stapleton in the IMCA Sunoco Hobby Stocks, Hunter Longnecker in the Karl Kustoms Northern SportMods and Evan Hrabik in the Mach-1 Sport Compacts.
Joining Nichols as Friday winners were Allan Hopp in the Late Models, Craig Reetz in the Modifieds, Chuck Madden Jr. in the Hobby Stocks, Jared Boumeester in the Northern SportMods and Tyler Fiebelkorn in the Sport Compacts.