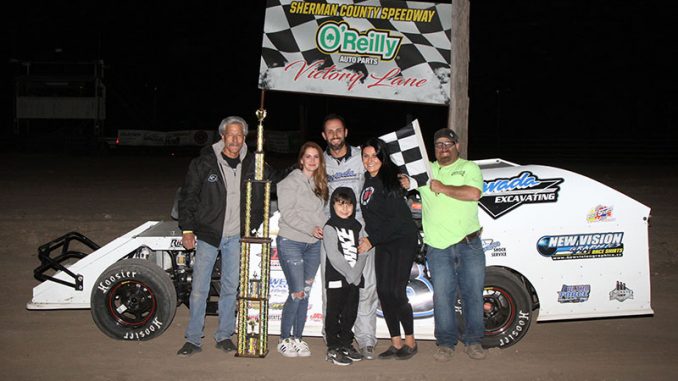 GOODLAND, Kan. (Sept. 26) – Eddie Belec got the monkey off his back, Jeff Tubbs got to the track on time and both got paid $1,500 for their Saturday IMCA feature wins at Sherman County Speedway's Flatlander Classic.
Belec led all 20 laps in the IMCA Modified main, outrunning cousin Dominic Ursetta and Greg Gustus. His Fast Shafts All-Star Invitational ballot qualifying win was his IMCA first since July of 19.
"It had been a little while since I won at Goodland. It had been a little while since I won, period," Belec said. You never know when you're going to win again. It was nice to get the money off my back."
Contact with a lapped car just after midway caused some concern but ultimately didn't keep Belec from ending in victory lane.
"That was more excitement than I wanted," he said. "The car never feels like it should when you knock the front end in but it worked out for us."
Kyle Rohleder and Corey Cox completed the top five.
Tubbs became a four-time Flatlander winner and might have had his second place by a whisker finish in the pole dash to thank for it. He started outside Tyler Tipton on the front row and quickly found the high side to his liking.
"The track was good and smooth and had a little bit of moisture in it. The top groove was there," Tubbs explained. "I basically ran the top of the track the whole race and that was it."
He'd had to hustle back to Sherman County after a six hour there-and-back trip to Hoisington to watch son Cash's football team win a final seconds thriller, getting back just about an hour before racing started on Saturday. 
Tipton, Ursetta, Jesse Taylor and Barrett Wagoner followed Tubbs at the finish.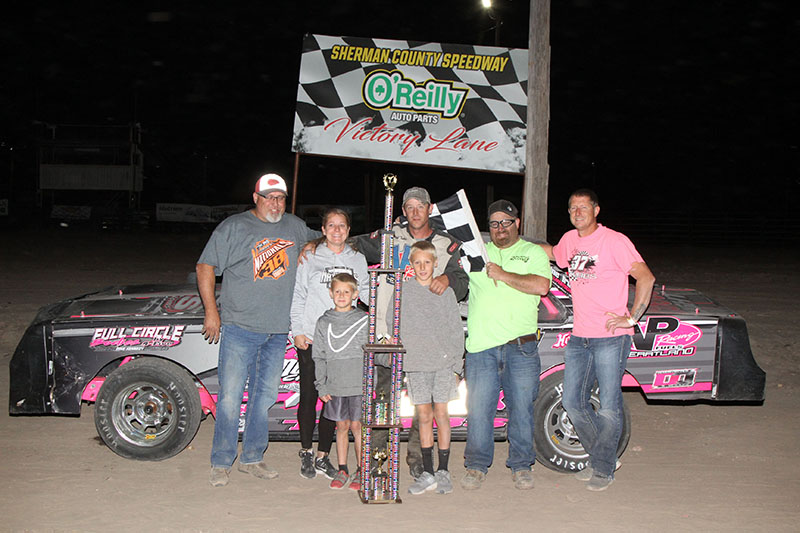 Jeff Tubbs'career fourth IMCA Sunoco Stock Car feature win at the Flatlander Classic was good for $1,500. (Photo by Carl Larson)
One thousand dollar feature winners were Josh Barnhart in the IMCA Sunoco Hobby Stocks, ahead of Brady Bencken and Jeromy Wagner, and Brett Berry in the Karl Kustoms Northern SportMods, in front of Blaine Walt and Adam Morris. 
Billy Turner, Brianna Maughlin and Otto Schutte ran 1-2-3 in the $400 to win Mach-1 Sport Com­pact feature.
Feature Results
Modifieds – 1. Eddie Belec; 2. Dominic Ursetta; 3. Greg Gustus; 4. Kyle Rohleder; 5. Corey Cox; 6. Jeremy Frenier; 7. Matt Morris; 8. Tracy Link; 9. Ronnie Hill; 10. John Burrow; 11. Darren Crouch; 12. David Solberg; 13. Cody Pancake; 14. Chris Remetes; 15. Grant Florence; 16. Nick Link; 17. Jason Haug; 18. Garfield Lopez; 19. Cody Gearhart; 20. Lane Linthacum.
Stock Cars – 1. Jeff Tubbs; 2. Tyler Tipton; 3. Dominic Ursetta; 4. Jesse Taylor; 5. Barrett Wag­oner; 6. Wheat Lippelman; 7. Kolby Stegman; 8. Nick Tubbs; 9. Phil Reid; 10. Keith Stegman; 11. Ondre Rexford; 12. Chris Oliver; 13. Jason McIntyre; 14. Johnny Yutterman; 15. Dillon Reese; 16. Quinton Yutterman; 17. Zach Hiler; 18. Brady White; 19. Michael Brunswig.
Hobby Stocks – 1. Josh Barnhart; 2. Brady Bencken; 3. Jeromy Wagner; 4. Jacob Stasser; 5. Austin Davis; 6. Tony Acierno; 7. Braxton Berry; 8. Brad Willox; 9. Bubba Willox; 10. Charlie Cook; 11. Craig Smith; 12. Levi Jones; 13. Steven Schoen; 14. Dalton Arndt; 15. Allen Snethen; 16. Zach Delgado; 17. Brett Copeland; 18. Emmanuel Young; 19. Zach Smith; 20. Brandon Wil­liams.
Northern SportMods – 1. Brett Berry; 2. Blaine Walt; 3. Adam Morris; 4. Brian Morris; 5. Adam Weber; 6. Brenden Nordyke; 7. Monty Nordyke; 8. Clayton Felk; 9. Mitch Boesel; 10. Jasen Gray; 11. Scott Saunders; 12. Bruce Plumisto; 13. Ryan Kirchoff; 14. Ricky Saunders; 15. Lance Yox­simer; 16. C.J. Pfannenstiel.
Sport Compacts – 1. Billy Turner; 2. Brianna Maughlin; 3. Otto Schutte; 4. Ted Trumbo; 5. Todd Trzcinski; 6. Melissa Johnson; 7. Blake Fladgard; 8. Kadyn Nelson.