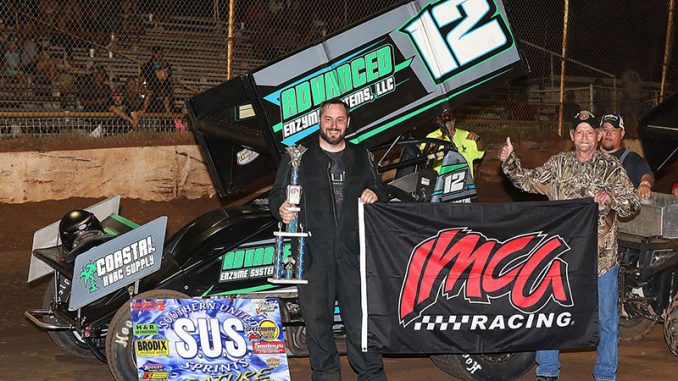 CLEVELAND, Texas (Sept. 12) – Trey Schmidt showed he was almost as good at tossing an egg as he is wheeling an IMCA RaceSaver Sprint Car.
Schmidt topped the Saturday Southern United Sprint feature at 105 Speedway, getting his first win of the season and staying in contention for a second career SUS title.
Kids from the grandstand were teamed up with the top qualifying drivers from heats in an egg toss competition to determine the front eight starting positions in the feature.
Schmidt, who had put a new motor in just the night before, was on the outside pole for the initial start, then moved to the pole after a multi-car melee.
Timely cautions kept him out of heavy lapped traffic. Schmidt took the checkers ahead of Shane Morgan and Rod Craddock.
"I searched around in one and two to find speed. I tried all different lines. Three and four were locked down and super fast," he said. "It feels great to get this win. It came at the right time."
Feature results – 1. Trey Schmidt; 2. Shane Morgan; 3. Rod Craddock; 4. Caleb Padgett; 5. Kent Lewis Sr.; 6. Trey Burke; 7. Daniel King; 8. Michael Oliver; 9. Steve Holland; 10. Randall Noble; 11. Gordon Taylor; 12. Curtis Gabriel; 13. Dustyn Welch; 14. Theresa Waller; 15. Willy Reed; 16. Aiden Welch; 17. Josh Hawkins; 18. Mike Gabriel; 19. Steve Legio.