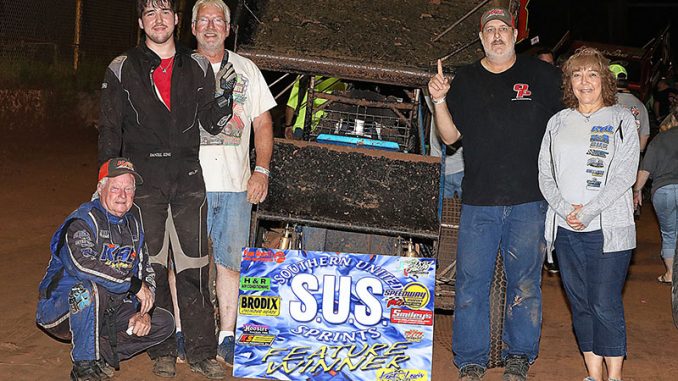 CLEVELAND, Texas (June 6) – Quick-thinking by his crew and a dominant car made Daniel King a two-time Kent Lewis Classic feature winner Saturday night at 105 Speedway. 
King led all 25 laps of the Southern United Sprints opener and seventh annual classic, with a bungee cord used to keep his IMCA RaceSaver Sprint Car in gear. Defending race winner Trey Schmidt was second.
"It feels fantastic, with Kent being my mentor and the guy who got me into a Sprint Car," said King, also winner of the inaugural event. "It's special to win this race, especially twice."
Also battling brake issues, King was smooth on the high side and ran much of the way in lapped traffic. The final caution came with five circuits to go and he was catching the back of the field at the checkers.
William Reed, Trey Burke and Jacob Harris completed the top five.
"I knew they were right there behind me but we had a super downright dominant car," King said.
The win came in King's first start of the season and more than made up for his 18th place showing in the 2019 classic.
"We struggled with chassis issues a lot last year. We got our original Triple X Chassis back and got back to more consistent times," he explained.
King plans to display both Kent Lewis Classic trophies side-by-side at his shop. The nine-year veteran of the division chases a career fourth series championship this season.
Lewis, a long-time driver and Sprint Car supporter in the Houston area, finished ninth at the event held in his honor.
Feature results – 1. Daniel King; 2. Trey Schmidt; 3. William Reed; 4. Trey Burke; 5. Jacob Har­ris; 6. Rod Craddock; 7. Caleb Padgett; 8. J.J. Whitworth; 9. Kent Lewis Sr.; 10. Theresa Waller; 11. Tyler Harris; 12. Mark Harris; 13. Michael Oliver; 14. Steve Leggio; 15. Mike Gabriel; 16. Doug­las Roberts; 17. Laine Holsten; 18. Dustyn Welch; 19. Billy Cramer; 20. Isaiah Garcia; 21. Austin Smith; 22. Aiden Welch; 23. Gordon Taylor; 24. Curtis Gabriel; 25. Les Leaton.